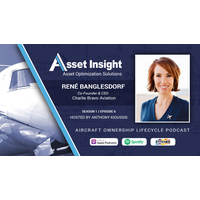 In this podcast, NAFA member, Rene Banglesdorf, CEO of Charlie Bravo Aviation, discusses with NAFA member, Tony Kioussis, President and CEO of Asset Insight, LLC, several of the key topics connected with acquiring or selling an aircraft.
René Bangelsdorf discusses aircraft acquisition and disposition strategies, and her firm's comprehensive suite of Business Aviation services: In-Depth Research, Marketing & Sales, Acquisitions, and Advisory Services.

Topics covered include:
Determining the best aircraft to meet a first-time buyer's private air transportation requirements.

Points to ponder in determining whether to acquire a new, versus a pre-owned aircraft.

The benefits one can secure by utilizing an aircraft Acquisition Consultant and/or a Sales Broker.

Factors to consider when deriving the Offer Price for an aircraft.

The challenges of refurbishing or upgrading an in-service aircraft prior to its acquisition.

The pre-purchase inspection – how much scrutiny is enough.

The costs and benefits associated with Professional Aircraft Management.

Chartering your aircraft – does it really reduce your operating cost?

Determining the optimum time to replace your aircraft.

Optimizing the value, and marketability, of the asset at the time of sale.
About René Banglesdorf
René is co-founder and CEO of Charlie Bravo Aviation, an Austin, TX-based company that buys, sells and leases corporate aircraft worldwide. She applies a background in business journalism and marketing from several industries to the company she started in 2008. Charlie Bravo works with government entities, non-profits, corporations both large and small, and private individuals, and has closed deals in more than 40 different countries ranging from hundreds of thousands to $30m+.
René is part of an elite group—only 4-6% of high-level aviation positions are held by women in North America and Europe. René serves as a spokesperson for Business Aviation and women in aviation in speaking and press appearances all over the world. René serves on the Advisory Board of the International Aviation Women's Association. In 2018, she held organized and emceed the IAWA Inaugural GA Women's Leadership Forum, with more than 100 female leaders from the industry in attendance—and in 2020, took that same forum virtual.
In 2020, René was selected by US Secretary of Transportation Elaine Chao to join 29 other women on the DOT's Women in Aviation Advisory Board. The purpose of the WIAAB is to develop strategies and recommendations that would encourage women and girls to enter the field of aviation. The WIAAB will assess education, training, mentorship, outreach, and recruitment of women in the aviation industry and make recommendations to the President and Congress.
René is an active member of the National Business Aircraft Association and the National Air Transportation Association. She serves as an advisor to the Ohio University Department of Management and Strategic Leadership. René also sits on the advisory board of Wingform, an aircraft transaction software company.
In November 2019, René was named as a Business Accelerator Coach for Michael Hyatt & Co, one of the fast growing and most widely recognized leadership training companies in North America. Along with the rest of the team, René helps overwhelmed, successful leaders get the focus they need to win at work and succeed at life.
To satisfy her passion for writing, René is an editorial contributor to several aviation business publications. Her latest book, Stand Up: How to Flourish When the Odds are Stacked Against You (April 2019) is available on Amazon, or anywhere books are sold. René also hosts a podcast called Defying the Status Quo, on which she interviews women who are crushing it in male-dominated industries. She launched a video podcast with AvBuyer in April 2019 interviewing corporate jet pilots about the planes they fly and their adventures in aviation. View the latest Insiders Guides with René Banglesdorf video series.
To read a transcript of this podcast, click here.
To listen to the podcast, click here.
This podcast was published by Asset Insight. LLC.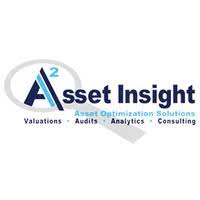 ---