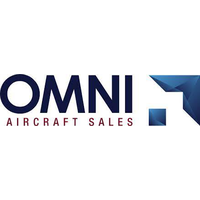 FOR IMMEDIATE RELEASE: April 8, 2022                                  
Contact: Tracey Cheek
405.850.1292
Omni Aircraft Sales Joins National Aircraft Finance Association
Edgewater, MD – National Aircraft Finance Association (NAFA) is pleased to announce that Omni Aircraft Sales has recently joined its network of aviation professionals. Omni Aircraft Sales specializes in private business aircraft brokerage and acquisitions.
"NAFA members place a high regard on the buying and selling of aircraft, and we welcome Omni Aircraft Sales to our association," said Jim Blessing, president of NAFA. "As we celebrate 50 years in the aviation world, we appreciate conscientious brokers who provide optimal service, integrity and value to our members."
Products & Services:
Aircraft brokerage

Aircraft acquisitions
About Omni Aircraft Sales: Omni Aircraft Sales provides aircraft acquisition and brokerage expertise, with a mission for maximizing transparency and providing exceptional customer care. Omni is certified by the International Aircraft Dealer Association (IADA) and has nearly 40 years of experience and transactional knowledge. With deep knowledge of current market situations, Omni Aircraft Sales uses research, industry relationships and years of personal and professional experience to create the perfect match negotiating transactions. They offer boutique-style services, including technical quality evaluations, minor refurbishment, in-house marketing support, dedicated research analysis, maintenance and 24/7 sales support.
About NAFA: The National Aircraft Finance Association (NAFA) is a professional association that has been promoting the general welfare of aircraft finance for 50 years. Our network of members is comprised of lenders and product service providers who work together to finance general and business aviation aircraft. NAFA sets the standard for best practices in aviation finance by educating its members with the most up-to-date industry trends and best practices. Government legislation, market influences and industry insights allow member companies to provide the highest quality services the industry has to offer. 
---