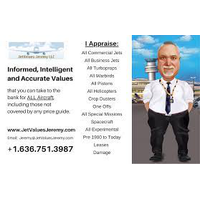 FOR IMMEDIATE RELEASE: February 15, 2022                                  
Contact: Tracey Cheek
405.850.1292
JetValues-Jeremy LLC Joins National Aircraft Finance Association
Edgewater, MD – National Aircraft Finance Association (NAFA) is pleased to announce that JetValues-Jeremy LLC has recently joined its network of aviation professionals. Jet Values-Jermey LLC provides appraisals for all aircraft with expertise in covering aircraft not covered by any price guide.
"NAFA members proudly support general and business aviation aircraft throughout the world, and we're happy to add JetValues-Jeremy LLC to our association," said Jim Blessing, president of NAFA. "Accurate, reasonable appraisals are essential for our members and the purchases they make. Without a good appraisal, owners, buyers, and financial institutions have nothing to work with. As NAFA celebrates our 50th anniversary, we point to the many services our members offer to the public, including the work Jet Values-Jeremy LLC does in the aircraft appraisal industry." 
Products & Services
Aircraft management

Asset appraisals

Expert witness in aviation legal cases
About JetValues-Jeremy LLC: JetValues-Jeremy LLC is based in the St. Louis area but provides global service as required. Jeremy Cox, known in the industry as 'JetValues Jeremy,' is active in the aviation industry as a commercial and instrument-rated pilot, A & P (Airframe & Powerplant) mechanic with an IA (Inspection Authorization), and FCC GROL Radio Operator License with Radar. Cox has extensive experience serving as the direct interface between aircraft purchasers and sellers, from marketplace research to pre-purchase inspection monitoring and aircraft appraisal. Jeremy is also a regular contributing aviation writer, having been published in a variety of trade journals. He is also an instructor for the American Society of Appraisers in the ASA Aircraft Valuation Education Program. Cox is active in the Greater St. Louis Business Aviation Association, National Business Aviation Association, the Experimental Aircraft Association, and the Aircraft Owners and Pilots Association. He is also a Colonel in the Commemorative Air Force.
About NAFA: The National Aircraft Finance Association (NAFA) is a professional association that has been promoting the general welfare of aircraft finance for 50 years. Our network of members is comprised of lenders and product service providers who work together to finance general and business aviation aircraft. NAFA sets the standard for best practices in aviation finance by educating its members on the most up-to-date industry trends and best practices. Government legislation, market influences, and industry insights allow member companies to provide the highest quality services the industry has to offer. 
---