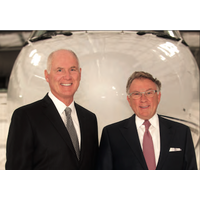 NAFA members Mark Bloomer and Brant Dahlfors of Jet Transactions share the latest Q1 2019 Dassault Market Update.
Welcome to another year of uncertainty fueled by declining Global GDP, trade wars and geo- political concerns in major trading markets around the world. The drop in trading activity in the last month of Q4-18 certainly dribbled into early Q1-19. By late-January however activity clearly increased to Oct/Nov levels raising hopes that 2019 would actually show positive growth across new and used aircraft. By the end of Q1 market signals are mixed at best. Charter activity is showing signs of decline as we start the year. This is something to pay close attention to as charter activity is often a "canary in the coal mine" signal.
New aircraft deliveries are down quarter over quarter which is consistent with the seasonality effect as OEMs pull as many aircraft into the fourth quarter as possible. The major OEMs all have new models starting with deliveries beginning from mid-2018 through mid-2020. With low starting production rates, the industry will not see the full effect for another year and a half to two years. On the positive side the OEMs crystal balls all indicate there is a solid market for new high tech models with more range, speed, cabin space and efficiency. In spite of the 8+ new models recently, or soon to be certified, we expect several new exciting airplanes to be introduced before year-end.
How does this affect the Dassault pre-owned market? Dassault products saw another consecutive quarter of decline in pre-owned inventory levels, dropping a further 10% over Q4/18. Sales activity dropped by more than half for both factory new and pre-owned sales, not uncommon to see in the beginning of the year albeit not normally at this rate. Average ask prices firmed up in several of the models we track, and the majority of models benefited from lower average sales cycles. With an estimated two years to go before first flight and another year after that before first delivery, the upcoming Falcon 6X will help to fill a gap left behind with the abandoned 5X project. The Falcon 7X has seen deliveries slow down nearly in parallel with the rise of 8X sales.
Click here for the full market update.
This market update was originally published by Jet Transactions on April 30, 2019.

---