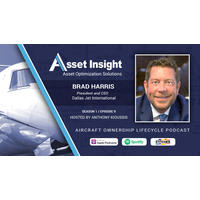 NAFA member and Asset Insight President, Tony Kioussis, talks with NAFA member, Brad Harris, President and CEO of Dallas Jet International, as they discuss how the firm he founded helps aircraft purchasers and sellers meet their private transportation needs through market knowledge and active participation during every step of a proven, streamlined process structured to ensure a successful outcome for the client. Topics covered include:
Determining the optimum aircraft to meet a client's requirements.

Factors to consider in determining whether to purchase a new or an in-service aircraft.

The benefits of using an experienced acquisition consultant.

Determining and justifying an aircraft purchase price.

The process for establishing and overseeing a successful pre-purchase inspection.

Determining the correct State to close an aircraft transaction.

The optimum ownership period to replace an aircraft.

Strategies an owner can use to optimize the value of their asset.

The criteria that make one in-service aircraft more marketable over other similar assets.

The value an aircraft broker brings to the table when selling an aircraft.
This Asset Insight podcast was originally published by Asset Insight in November 2021.

---