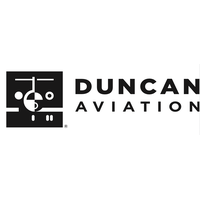 FOR IMMEDIATE RELEASE: May 10, 2022                                  
Contact: Tracey Cheek
405.850.1292
Duncan Aviation Joins National Aircraft Finance Association
Edgewater, MD – National Aircraft Finance Association (NAFA) is pleased to announce that Duncan Aviation has recently joined its network of aviation professionals. Duncan Aviation is the largest privately owned business jet service provider in the world, with complete Maintenance, Repair and Overhaul (MRO) and aircraft broker/acquisition services.
"NAFA members know first-hand the value of having full-service providers who pride themselves on friendly, quality transactions," said Jim Blessing, president of NAFA. "We welcome Duncan Aviation to our association and anticipate a long, fruitful relationship. As NAFA celebrates our 50th anniversary, we look to these companies such as Duncan Aviation to help our members and our organization continue to be known for innovation and expertise."
Products & Services:
Aircraft sales and acquisition

Airframe and engine maintenance, service and support

Avionics service, upgrades and installation
Paint and interior refurbishment

Parts and rotables sales

Rapid response engine, avionics and parts support

Engineering and certification

Manufacturing solutions
About Duncan Aviation: Owned and operated by the Duncan family since its founding in 1956, Duncan Aviation was founded as an aircraft sales organization. Now, in addition to aircraft brokerage and acquisition services, the company provides tip to tail aircraft support. Well-known and respected by operators, manufacturers and other service providers worldwide for quality, value, timeliness, communication, work ethic and expertise, Duncan Aviation has core values focusing on service, respect and integrity. Its brand promise is a commitment to providing exceptional customer service and innovative offerings through a strong code of ethics. Duncan Aviation has major full-service MRO facilities in Michigan, Nebraska and Utah and more than 30 satellite facilities and in-field response offices.
About NAFA: The National Aircraft Finance Association (NAFA) is a professional association that has been promoting the general welfare of aircraft finance for 50 years. Our network of members is comprised of lenders and product service providers who work together to finance general and business aviation aircraft. NAFA sets the standard for best practices in aviation finance by educating its members with the most up-to-date industry trends and best practices. Government legislation, market influences and industry insights allow member companies to provide the highest quality services the industry has to offer. 
---