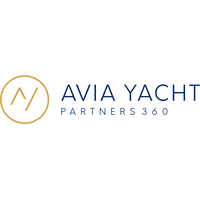 FOR IMMEDIATE RELEASE: April 13, 2022
Contact: Tracey Cheek
405.850.1292
Avia Yacht Partners 360 Joins National Aircraft Finance Association
Edgewater, MD – National Aircraft Finance Association (NAFA) is pleased to announce that Avia Yacht Partners 360 has recently joined its network of aviation professionals. Avia provides bespoke consulting and facilitation of acquisitions, sales and financing/leasing for preowned and new build business jets and superyachts worldwide.
"NAFA members pride themselves on knowing their markets, and the luxury market is one of our most important verticals," said Jim Blessing, president of NAFA. "As NAFA celebrates our 50th anniversary, we point to the many services our members offer to the public, including the work Avia Yacht Partners 360 does in the luxury aircraft world. Knowing the legal filings required is equally important as understanding the mechanics or routes for flight."
Founder and CEO Rolf Smith serves the luxury niche in both the aircraft and luxury watercraft markets. Because of his own insider insights as well as a network of trusted partners, Avia Yacht Partners 360 helps make the dream of custom aircraft ownership and charters a reality.
Products & Services
Charter: planning and execution of for-hire air travel
Sales: for those acquiring or selling aircraft
Financing and leasing: facilitation of the purchase process
New builds: integration and management of new-build luxury aircraft
About Avia Yacht Partners 360:
Avia Yacht Partners 360 was founded by Rolf Smith and is based in Ft. Lauderdale, FL with locations in North America and Europe. The company provides a customized and bespoke approach to all the advisory, commercial, financial, legal, technical, and project management aspects of luxury aircraft acquisition. Avia is able to tailor services and components according to the needs of the client.
About NAFA: The National Aircraft Finance Association (NAFA) is a professional association that has been promoting the general welfare of aircraft finance for 50 years. Our network of members is comprised of lenders and product service providers who work together to finance general and business aviation aircraft. NAFA sets the standard for best practices in aviation finance by educating its members with the most up-to-date industry trends and best practices. Government legislation, market influences and industry insights allow member companies to provide the highest quality services the industry has to offer.
---