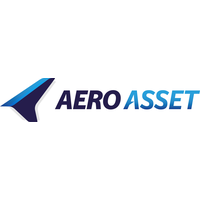 NAFA member, AeroAsset, shares their Heli Market Trends Half Year 2022 Report and Key Findings.
Key Findings
TRANSACTION VOLUME DOWN, SUPPLY SHRINKS
• Total retail sales decreased 17% 1st half of 2022 vs same period 2021 (YOY).
• Supply for sale was 30% lower year over year (YOY).
• Absorption rate was slightly better YOY and stable vs previous semester.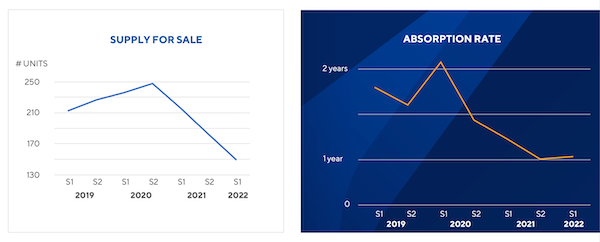 WEIGHT CLASS PERFORMANCE
• Supply for sale continued to decrease in all asset classes through 2022.
• Light & medium twin engine retail sales volume decreased nearly 20% YOY.
• Heavy retail sales increased over same period.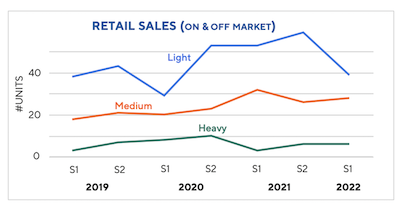 REGIONS & CONFIGS
• North American & European sales volume accounted for 75% of total transactions 1st half of 2022.
• Europe was the only region with a positive trend in transaction volume YOY (+4%).
• Sales volume of VIP and utility configurations decreased by 25% YOY while EMS sales increased YOY.

LIQUIDITY LINEUP
• The best performing preowned twin engine market in 1st half of 2022 was the Airbus EC/H145, followed by the Leonardo AW139 and the Airbus EC/H135.
• Two twin engine models saw no retail sales over the 1st half of 2022: the S-76D and AW169.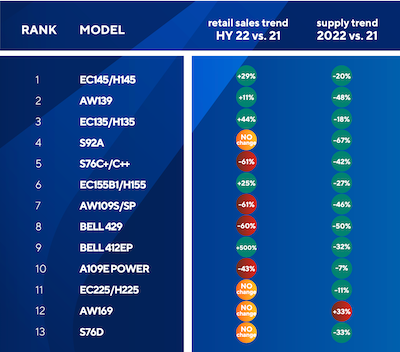 DEAL PIPELINE
• The number of deals pending at various stages of transaction increased 20% 2Q 22 vs. 2Q 21.

Full Heli Market Trends report available at https://www.aeroasset.com/en/report-download/S12022-Twins
This report was originally published by AeroAsset in September 2022.

---