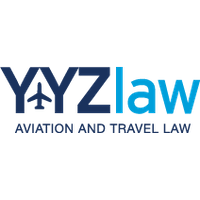 FOR IMMEDIATE RELEASE
EDGEWATER, Md. – Feb. 5, 2019 – National Aircraft Finance Association (NAFA) is pleased to announce that YYZlaw has recently joined its professional network of aviation lenders. "NAFA members proudly finance - support or enable the financing of - general and business aviation aircraft throughout the world, and we're happy to add YYZlaw to our association," said Ford von Weise, President of NAFA.
YYZlaw (formerly Clark & Company) is a corporate and regulatory law practice with an emphasis on the aviation and travel industries. Their main clients are scheduled and charter international airlines flying into Canada, domestic air carriers, Canadian aerospace companies, aviation and travel trade associations, tour operators, aircraft lessors, financial institutions and a variety of other organizations and professionals related to the aviation and travel industries."With our decades of experience serving the regulatory and transactional needs of business aircraft financiers and their clients, YYZlaw is excited to continue to further the growth of our industry by supporting NAFA's mandate," said Bill Clark, Managing Partner at YYZlaw.
The company provides legal counsel services to foreign and domestic corporations conducting aviation and travel businesses under the laws of Canada, including: regulatory advice on all aviation matters, the travel and tour operator industries; commercial and transactional advice on aircraft leasing, acquisitions and financing; commercial advice to aviation and travel companies in regard to laws of general application relating to labor, immigration, real estate and taxation; andadvice regarding the Cape Town Convention, including assistance with forming and maintaining accounts on the International Registry. "We pride ourselves on providing cost-effective, timely and sensible legal advice because we understand the real-life demands present in the business aviation sector," said Ehsan Monfared, Legal Counsel at YYZlaw.
Much like NAFA, YYZlaw fosters strong client and business relationships with their expanding network of specialized professionals. YYZlaw and NAFA provide the knowledge and dedication necessary for continued development in the aviation industry.
For more information about YYZlaw, visit www.yyzlaw.com.
About NAFA:
The National Aircraft Finance Association (NAFA) is a non-profit corporation dedicated to promoting the general welfare of individuals and organizations providing aircraft financing and loans secured by aircraft; to improving the industry's service to the public; and to providing our members with a forum for education and the sharing of information and knowledge to encourage the financing, leasing and insuring of general aviation aircraft. For more information about NAFA, visit www.NAFA.aero.
---