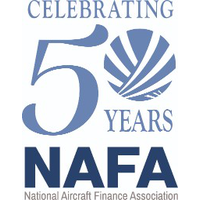 FOR IMMEDIATE RELEASE: February 24, 2021
Contact: Tracey Cheek
TLC@NAFA.aero
405.850.1292
The National Aircraft Finance Association (NAFA) Celebrates
50 Years of Aviation Finance Expertise
Edgewater, MD: 2021 marks the 50th anniversary of NAFA's inception. The occasion comes at a pivotal moment in the world of aircraft financing—a time when the professional education, lender access, and networking opportunities NAFA provides are more important than ever.
The History of NAFA
NAFA was born in the late 60s when Tom Harvell, Bob Beech, Carol Davis, Jim Peters, Victor Hermey, Bob Keeling, William Staub, and other lenders who financed aircraft in large volume came together with an idea: improve and facilitate the lending process to support aircraft buyers.
Their first order of business? Figure out who was lending on aircraft. For that, they reached out to a local Oklahoma City title and escrow firm, which conducted research to identify this common core of entities. Over the next few years, the group began meeting in a more formal way as the Aircraft Finance Association, or AFA for short. In its early years, the AFA worked to develop a streamlined FAA escrow process to immediately secure lienholder interest in aircraft—a process that, at the time, was an uphill battle requiring much litigation. They also worked to improve the process of reporting aircraft interests, with an end goal of better grasping how exactly to value an aircraft, specifically when it comes to financing used assets. The solution, in part, lead to the formation of the industry's first comprehensive aircraft value guide for both business and general aviation.
What started as a small, scrappy group of lenders figuring out how to corral the industry grew, by the 1980s, into a network of approximately 70 member companies. It was at this point that AFA rebranded to become the National Aircraft Finance Association, or NAFA.
NAFA Today
Fast forward to today, and the organization has grown to nearly 200 member companies, including the five largest banks in the United States. In addition to niche financiers, NAFA is home to certified appraisers, aviation attorneys, title and escrow firms, aviation tax specialists, aircraft insurance firms, aircraft manufacturers, brokers, and dealers—essentially anyone involved with the touchpoint of buying and/or financing an aircraft. This diverse representation has allowed NAFA, over the past 50 years, to successfully facilitate the exchange of ideas and capital that finance the world's business and general aviation aircraft.
Key tenets of the organization include:

A world-class network
NAFA hosts a complete network of lenders and product/service providers, all of whom regularly convene via in-person or live video events to discuss and resolve key, timely industry issues.

Industry expertise and education
NAFA members obtain comprehensive education on the latest industry developments, laws, and regulations from a vetted group of experienced professionals.
Unparalleled access to lenders and borrowers
With NAFA, all aircraft financing needs are housed in one organization, with tailored solutions for first-time and experienced buyers alike that not only support but promote aircraft finance.
The Future of NAFA
50 years in, NAFA is showing no signs of slowing down. Aircraft purchasers are leaning on financing more than ever as a way to become more liquid while maintaining their cash reserves. There is also an uptick in first-time aircraft buyers (people entering the market who haven't owned before as well as entities who may have owned an aircraft 15-20 years ago and are now returning)—a large percentage of whom are financing their purchases. This all coupled with historically low interest rates is fueling an increase in financing demand.
NAFA is primed for the surge in demand with a 2021 plan that includes:

Expanding educational offerings through articles and newsletters. During COVID-19, NAFA also launched webinars, which covered topics such as best practices in aircraft lending, how to manage a loan portfolio in this unique economic environment, and impending regulatory changes in the market.

Developing and growing NAFA as the voice of aircraft finance by closely tracking activity and changes in the market and publishing recurring market updates on the state of aircraft financing.

Collaborating with other aviation associations as a way to expand access to aviation and aircraft ownership.
Investing in the future of aviation professionals with a newly established NAFA Foundation, and a scholarship program that supports aircraft finance students from universities across the country.
According to Jim Blessing, President of NAFA, "Many things may have changed over the past 50 years, but NAFA has retained the founders' love of aviation and original purpose: to promote aircraft financing and the organizations that support it."
####
About NAFA: The National Aircraft Finance Association (NAFA) is a professional association that has been promoting the general welfare of aircraft finance for 50 years. Our network of members is comprised of lenders and product service providers who work together to finance general and business aviation aircraft. NAFA sets the standard for best practices in aviation finance by educating its members with the most up-to-date industry trends and best practices. Government legislation, market influences, and industry insights allow member companies to provide the highest quality services the industry has to offer.
---