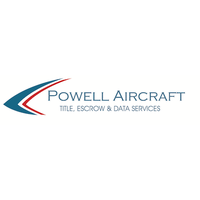 FOR IMMEDIATE RELEASE
EDGEWATER, Md. – Sept. 18, 2018 – National Aircraft Finance Association (NAFA) is pleased to announce that Powell Aircraft Title Service has recently joined its professional network of aviation lenders. "NAFA members proudly finance - support or enable the financing of - general and business aviation aircraft throughout the world, and we're happy to add Powell to our association," said Ford von Weise, President of NAFA.
Powell Aircraft Title Service is a full service title company that has been providing professional services to the aviation community since the 1950's, offering help with many aspects of sales, acquisition, and ownership, including FAA title searches, international registry title searches and filing services, escrow services, document escrow services, and document recordation services.
The company has a proven track record for professional, prompt, and friendly service to their clients. Combined with the strong relationships they maintain with their banking partners, Powell takes care of their transactions in a safe and timely manner. With a time-tested and proven team of hardworking employees, and a vast network of contacts in the aviation industry, they pride themselves on the abiity to get things done right the first time.
"We're excited to be a part of NAFA and continue building our connections in the industry," stated Kimberly Thompson, Escrow, Title & Operations Manager. Much like NAFA, Powell's goal is to support their clients and the aviation industry by providing the most professional service and commitment to long-lasting relationships. Powell Aircraft Title Service and NAFA are dedicated to going beyond the transaction itself by furthering the education and expertise necessary for safe and timely aircraft financing.
For more information about Powell Aircraft Title Service, visit http://www.airtitle.com.
About NAFA:
The National Aircraft Finance Association (NAFA) is a non-profit corporation dedicated to promoting the general welfare of individuals and organizations providing aircraft financing and loans secured by aircraft; to improving the industry's service to the public; and to providing our members with a forum for education and the sharing of information and knowledge to encourage the financing, leasing and insuring of general aviation aircraft. For more information about NAFA, visit www.NAFA.aero.
---