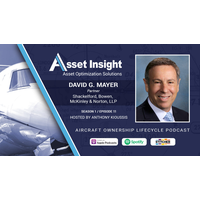 David Mayer, a Partner with the law firm of Shackelford, Bowen, McKinley & Norton, LLP, discusses some of the business and legal issues one should consider when acquiring a new or pre-owned aircraft. Topics covered include:
The kinds of business professionals a buyer should engage for an aircraft purchase.

The terms a Letter of Intent (LOI) should include when it comes to the acquisition process.

Why use an LOI rather than enter into an Aircraft Purchase Agreement immediately?

Should the LOI state the purchase be contingent on securing financing?

Drafting the Aircraft Purchase Agreement.

Issues that are important to address in the Aircraft Purchase Agreement.

How Federal Aviation Regulations can affect aircraft purchases and structuring.

The benefit of establishing a Limited Liability Company (LLC) or Trust to own an aircraft.

Tax planning and bonus depreciation.

The "fly-away" sales tax exemption.

How aviation insurance protects an owner or lessee.

The importance of Uniform Commercial Code (UCC), FAA and International Registry filings.
This podcast was originally published by Asset Insight on July 21, 2020.
David Mayer has decades of experience in guiding clients through domestic and international transactions, disputes, and other matters. Currently, most of his work relates to business aviation and aircraft finance.
He likes to describe when he can first help clients: "When they say airplane, I'm in." In this regard, David advises his clients at all stages of their experiences in buying, selling, structuring, leasing, financing, maintaining, and upgrading private aircraft. His tasks range from simple to complex.
David helps clients evaluate and, when feasible, minimize local, state, and federal taxes, particularly bonus depreciation, associated with purchases and sales of business aircraft, turboprops, and other private aircraft, comply with federal aviation regulations, and manage liability risk that they worry an aircraft may cause.
He represents, among others, high wealth individuals, large private and public companies, private jet owners and lessees, Part 135 and Part 91 operators, flight departments, charter operators, brokers, consultants, and management companies. By representing various lessors, lessees, lenders, and borrowers, David knows both sides of the transaction, enabling him to expedite and achieve favorable results for his clients in a wide array of legal matters.
David has experience as a corporate counsel in addition to his longer experience as a partner in law firms. Adapting to the client's interest, David provides insightful, thoughtful, and common-sense advice honed in part by calling on his extensive industry contacts in business aviation to enhance the quality and value of the client experience.
He writes blogs for Aviation International Network, in the industry's AINsight series, which, in part, positions David at the leading edge of legal and business developments in business aviation.
Shackelford, Bowen, McKinley & Norton, LLP
Shackelford, Bowen, McKinley & Norton, LLP represents clients in matters involving business, commercial and entertainment law based on years of experience in courtroom trials and negotiations across the U.S. We assist large corporations as well as individuals in a variety of industries, including aviation, energy, entertainment, financial institutions, health care, hospitality, real estate, and retail automobile sales.
---