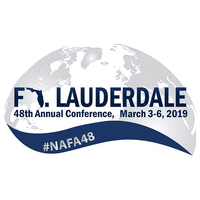 Ft. Lauderdale, FL., March 3-6, 2019 – #NAFA48 - The National Aircraft Finance Association (NAFA) held its 48thAnnual Conference March 3-6, 2019. With 108 companies in attendance, and over 200 attendees, the conference was a great success. The conference was held at the Marriott Harbor Beach in Ft. Lauderdale, Florida. The four-day event included a 1-day NAFA Aircraft Education Program, Annual Business Meeting and a wide array of aviation and finance-specific Sessions.
NAFA announced new officers for the next year, with Jim Blessing assuming the role as president, succeeding Ford Von Weise. Additionally, Jim Simpson will become vice president. NAFA also welcomed industry veteran Ed Medici to the Board of Directors.
"The 48thAnnual Conference reflects a continued commitment by NAFA to raise the bar, with economic and business thought leaders, aviation industry experts, and seasoned veterans in the finance community," said Jim Blessing president of NAFA. "Engaging discussions about the future of the aviation industry, workforce shortages, the approaching ADS-B deadline, and new aircraft entering the marketplace highlighted the event."
Keynote speaker this year was Geoff Colvin, Acclaimed Author & Senior Editor, Fortune Magazine. He spoke about Leading Ahead of What's Next – The New Rules of Business.
Economic Analyst, Dr. LaVaughn M. Henry, spoke to the audience about The Status & Outlook of the U.S. Economy & Monetary Policy.Dr. Henry is a policy analyst for the Federal Deposit Insurance Corporation (FDIC) and Former Vice President of the Federal Reserve Bank of Cleveland.
Conference participants also included Mark Baker, President of the Aircraft Owners' & Pilots' Association, Steve Brown, COO of the National Business Aviation Association, Gary Dempsey, President of the National Air Transport Association, and representatives from a wide variety of aircraft manufacturing and aviation service organizations.
NAFA would like to thank the conference sponsors:
- Platinum Sponsor– Embraer – host of the Welcome Reception along with an Open House and Static Display a their Fort Lauderdale facility.
- Gold Sponsors– AIC Title Service, Aircraft Bluebook, AOPA Finance, Global Jet Capital, Insured Aircraft Title Service, JSSI Advisory Services, Rolls Royce and Wright Brothers Aircraft Title.
- Silver Sponsors– Aero-Space Reports, Aircraft Guaranty-Corp, AirFleet Capital, Aviation Management Systems, Essex Aviation, LL Johns Aviation Insurance, Salem Five, Scope Aircraft Finance, and V-Ref Aircraft Value Reference.
- Bronze Sponsors– Aviation Legal Group, Asset Insight, Bank of America/Merrill Lynch and Stevens Aerospace and Defense Systems.
NAFA's 49thAnnual Conference is to be held in Napa Valley, California April 28 through May 1, 2020.
About NAFA:
The National Aircraft Finance Association (NAFA) is a non-profit corporation dedicated to promoting the general welfare of individuals and organizations providing aircraft financing and loans secured by aircraft; to improving the industry's service to the public; and to providing our members with a forum for education and the sharing of information and knowledge to encourage the financing, leasing and insuring of general aviation aircraft. For more information about NAFA, visit the website at www.NAFA.aero
---