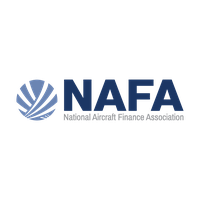 Edgewater, MD — May 5, 2023 National Aircraft Finance Association (NAFA) is pleased to announce the election of Ed Medici as the new NAFA President. NAFA also elected four new board members: Megha Bhatia, Vice President of Sales and Marketing for business aviation at Rolls-Royce; Jack Gilchrist, Founding Director and Shareholder of Gilchrist Aviation Law; Isabelle Lafond, AVP, Aviation Finance at LBC Capital, Inc., and Scott McCreary, Vice President at McAfee & Taft.
"I am pleased to serve NAFA as the new President, replacing Jim Blessing, who served for four years," said Medici. "We also welcome Megha, Jack, Isabelle and Scott to the NAFA Board. The arrival of these new members to the board of directors adds a fresh perspective. We will value the unique skills, diverse perspectives and unwavering commitment they will undoubtedly bring to grow the overall quality of NAFA."
Outgoing board members include J.C. Ferrer of Holland & Knight, Cathy Nyen of Cirrus Aircraft and Lee Rohde of Essex Aviation.
About Ed Medici:
Edward Medici is Managing Director of Capital Markets for Banc of America Global Corporate Aircraft Finance (GCAF) at Bank of America Merrill Lynch. Based in Providence, Rhode Island, Medici is responsible for managing and developing strategic investor and trading relationships, overseeing sales of transactions to third-party investors and supporting GCAF's activities across its global platform.
Medici began his work experience in contracts and has been a part of Banc of America Leasing's Capital Markets group for general equipment and corporate aircraft transactions since 1998. He earned a B.A. from Connecticut College and J. D. from Roger Williams School of Law and is a member of the Rhode Island Bar.
About Megha Bhatia:
Megha Bhatia is Vice President of Sales & Marketing for the dedicated business aviation organization at Rolls-Royce. Before her current position, Bhatia specialized for more than a decade in sales and strategy with Rolls-Royce.
Bhatia's passion for technology combined with a degree in Aerospace Engineering and a Master of Business from Embry-Riddle University has enabled her to drive change within the aerospace industry.
During her time in business aviation, she launched CorporateCare® Enhanced, the first aftermarket program to expand its premier comprehensive protection for the full powerplant, including engine & nacelle.
About Jack Gilchrist:
Jack Gilchrist is the Founding Director and Shareholder of Gilchrist Aviation Law. He serves as Special Counsel, representing clients involved in all areas of the aviation industry. Since 1989, Gilchrist has specifically focused his career on aviation transactions involving every current structure of aircraft, including engines, propellers and spare parts.
Gilchrist has counseled clients around the world in aircraft transactions, including many of the major air carriers, aircraft and engine leasing companies, fractional ownership programs, air cargo companies, corporations, banks and other lending institutions. He also works closely with aircraft brokers, dealers and manufacturers. 
About Isabelle Lafond:
Isabelle Lafond has served as Assistant Vice President Aviation at LBC Capital Inc. for over four years. Previously, she was Financing Manager at Export Development Canada and has spent her career in the aviation business industry.
About Scott McCreary:
As Vice President at McAfee & Taft, Scott McCreary represents local, national and international clients in connection with matters involving the buying, selling, leasing and financing of aircraft. His practice is primarily focused on matters relating to the Cape Town Convention, the Federal Aviation Act and the FAA Aircraft Registry, such as aircraft title, registration, finance and leasing law, as well as regulatory issues relating to the operation of aircraft under Part 91 of the Federal Aviation Regulations.
McCreary is a frequent speaker at aviation conferences in the United States and abroad and has presented at venues such as the Strategic Research Institute's Annual FAA Aircraft Registration, Lien & Securities Interest Conference, the Federal Bar Association's Aircraft Title, Registration, Finance and Leasing Law Conference and more.
Current officers:
Ed Medici: President

Bryan Byers: Vice President

Tobias Kleitman: Treasurer

Theresa Myers: Secretary
Dave Warner: General Counsel

Jim Blessing: Ex-Officio

For more information about NAFA and to see a full list of board members, visit www.nafa.aero.  
About NAFA: 
The National Aircraft Finance Association (NAFA) is a professional association that has been promoting the general welfare of aircraft finance for 50 years. Our network of members is comprised of lenders and product service providers who work together to finance general and business aviation aircraft. NAFA sets the standard for best practices in aviation finance by educating its members on the most up-to-date industry trends and best practices. Government legislation, market influences, and industry insights allow member companies to provide the highest quality services the industry has to offer.
---