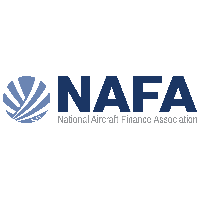 Dear Fellow NAFA Members,
At the close of the 48th Annual NAFA Conference it became my distinct honor to take the helm of such a distinguished organization as we head toward our 50th anniversary.
The 2019 Conference was an excellent event in many respects, with presentations from industry experts, aircraft manufacturers, our keynote and economist, and lively discussions on the issues that are most topical to the NAFA membership. We are especially appreciative of our conference sponsors who have given NAFA the ability to invest in increasing the quality and content of the event year over year. Your feedback from the event is critical in our development of future years' Conference programs. Please take the time to complete the post-conference survey if you have not already done so via the link: https://www.getfeedback.com/r/cuVU44p8.
At the Annual Meeting NAFA announced a new Code of Ethics for our membership, and the final version is attached here. We would welcome you to review and comment on the document by April 30th, as our intent is to implement this soon thereafter.
Organizationally, NAFA welcomes the addition of Ed Medici to the Board of Directors. Ed is a 20+ year veteran of the aviation industry and serves as the Managing Director at Banc of America. In addition, Jim Simpson, Senior Managing Director with First Republic Bank joins the NAFA Executive team as NAFA's new Vice President. We are also thankful for the renewed support of our officers; Karen Griggs - Executive Director, Tobias Kleitman - Treasurer, Tony Kioussis - Secretary, and David Warner, NAFA's General Counsel.
We received excellent feedback during the Conference on what you want to see from your NAFA membership. With this in mind, we have a lot to accomplish, and we are looking for active participants for our Committees. Please consider participating in one of the below committees:
- Website Development

- Annual Conference Planning

- Other Networking Event Planning

- Membership Committee

- Regulatory & Advocacy

- Marketing Committee

- Strategic Planning

- Sponsorships & Fundraising
If you have an interest in joining one of the above initiatives, please feel free to reach out to Karen Griggs or I (karengriggs@nafa.aero).
In moving our focus forward, we ended our event in Fort Lauderdale with an announcement as to next year's conference dates and locations. NAFA's 2020 conference will be hosted by the Meritage Resort in Napa Valley, California and is scheduled for April 28-May 1. We hope you will make plans to join us!
Sincerely,
Jim Blessing
President, National Aircraft Finance Association
jblessing@airfleetcapital.com
480.634.8129 direct
703.608.9360 cell
---