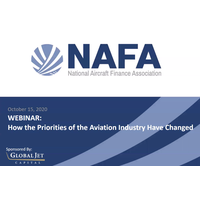 NAFA Webinar: How the Priorities of the Aviation Industry Have Changed
The Global Pandemic has had a profound effect on the industry and the way we do business. What long-term effect will the CARES act have? What about sustainable fuels, pilot shortages, and insurance rates? Have those been affected, too?
Come listen to our distinguished panel of experts discuss the many ways industry priorities have changed in 2020.
Meet our Moderator and Panelists:
Gil Wolin, Publisher, Business Aviation Advisor Magazine.
Ed Bolen, President and CEO, NBAA (National Business Aviation Association)
Pete Bunce, President and CEO, GAMA (General Aviation Manufacturers Association)
Tim Obitts, President & CEO, NATA (National Air Transportation Association)
Mark Baker, President, AOPA (Aircraft Owners and Pilots Association)
This NAFA webinar originally aired on October 15, 2020.
---