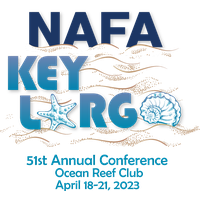 FOR IMMEDIATE RELEASE:  9 May 2023      
Contact: Tracey Cheek
tlc@nafa.aero
405.850.1292
NAFA 51st Annual Conference: A Truly Exceptional Event
Key Largo, Fla. – The National Aircraft Finance Association (NAFA) successfully wrapped its 51 Annual Conference on April 22 at the Ocean Reef Club in Key Largo, Florida. This year's event saw a record turnout, with attendance 40% higher than pre-pandemic levels. In addition, the Conference fielded a truly unique and unprecedented lineup of speakers and presentations, coupled with high-value networking opportunities, all in an amazing venue – the Florida Keys.
Headlined by the aviation industry's top thought-leaders, NAFA 2023 heard from Ed Bolen, President & CEO of NBAA, Pete Bunce, President & CEO of GAMA, Mark Baker, President of AOPA, and Jack Pelton, President of EAA. Further complimenting the lineup were impactful discussions with Thierry Betbeze, CEO of Dassault Falcon Jet, Mark Burns, President of Gulfstream Aircraft, Craig Sincock, President & CEO of AvFuel and Matt Field, CFO of Joby Aviation. "Never before have we had such an incredible lineup of speakers and panelists" commented Lou Seno, Conference Chair. "NAFA seems to raise the bar every year with meaningful content, thoughtful presentations, and engaging the industry's leadership."
"The high energy members brought to the event was inspiring and contagious" commented NAFA President Ed Medici. "Connections were made that will undoubtedly lead to fruitful partnerships and collaborations. We couldn't be happier with how the event went and the opportunity to build upon NAFA's strong organization."
The keynote speaker this year was Jeff Kreisler. Jeff is Head of Behavioral Science for JP Morgan Chase, a Princeton-educated lawyer turned award-winning comedian, best-selling author and champion for behavioral economics. In addition, Economic Analyst Dr. LaVaughn M. Henry, former senior economist for the Council of Economic Advisors in the Executive Office of the President of the United States, spoke to the audience about the state of the U.S. economy and monetary policy.  Spirited panel discussions on changes with the FAA Registry, preventing fraud, aircraft values and the pre-owned aircraft market provided additional context to a rapidly changing industry.
NAFA is particularly appreciative of the record level of sponsorship to support the event, with Platinum sponsors including Aero Asset, AirFleet Capital, Embraer, GE Aerospace, Jet Aviation and Rolls-Royce. Gold Sponsors included AIC Title Service, Engine Assurance Program, Essex Aviation, Gilchrist Aviation Law, Insured Aircraft Title Service, JETNET and Soar Aviation Law. Silver sponsors included 1st Source Bank, Aero-Space Reports, Echo Aviation Leasing, JetLoan Capital, JSSI, LLJohns Aviation Insurance, PNC Aviation Finance and Scope Aircraft Finance, and Bronze sponsors included AircraftPost, Inc., Aviation Legal Group, Dassault Falcon Jet Corp., GAMA and Vinci Aeronautica.
About NAFA:    
The National Aircraft Finance Association (NAFA) is a professional association that has been promoting the general welfare of aircraft finance for over 50 years. Our network of members is comprised of lenders and product service providers who work together to finance general and business aviation aircraft. NAFA sets the standard for best practices in aviation finance by educating its members on the most up-to-date industry trends and best practices. Government legislation, market influences and industry insights allow member companies to provide the highest quality services the industry has to offer. 
---