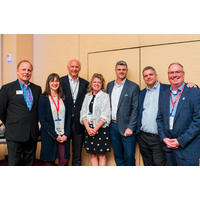 For immediate release: April 21, 2022 
Contact: Tracey Cheek
Karen Griggs Presented With NAFA Lifetime Achievement Award
Napa Valley, CA – April 21, 2022 – As NAFA celebrated its 50th Annual Conference, it celebrated something else as well – Karen Griggs' longstanding contribution to the association. Karen has been the Executive Director of the National Aircraft Finance Association nearly since its inception and has contributed countless hours of hard work and dedication to helping NAFA become what it is today. For her many years of loyal service Karen was awarded NAFA's Lifetime Achievement Award, one of the highest honors it has to present.
NAFA's current President, Jim Blessing had this to say: "The Association's Lifetime Achievement Award has been bestowed to very few individuals due to its eligibility criteria. NAFA's focus has always been on the integrity of an aircraft's transaction and financing. As such, the Association is founded on character, and a deep-rooted commitment to integrity. Karen has been the Association's backbone, keeping the group on course during its formative years, its maturity, and today's current growth. There is no one person who has had greater impact on NAFA than Karen Griggs."
This is only the 3rd time that NAFA has presented this award, and it could not have gone to anyone more deserving.
About NAFA:
The National Aircraft Finance Association (NAFA) is a non-profit corporation dedicated to promoting the general welfare of individuals and organizations providing aircraft financing and loans secured by aircraft; to improving the industry's service to the public; and to providing our members with a forum for education and the sharing of information and knowledge to encourage the financing, leasing and insuring of general aviation aircraft. For more information about NAFA, visit the website at www. NAFA.aero.
---