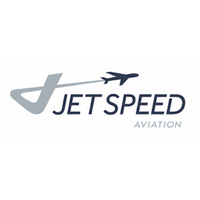 FOR IMMEDIATE RELEASE
EDGEWATER, Md. - Feb. 13, 2019 - National Aircraft Finance Association (NAFA) is pleased to announce Jet Speed Aviation, Inc. has recently joined its professional network of aviation lenders. "NAFA members proudly finance - support or enable the financing of - general and business aviation aircraft throughout the world, and we're happy to add Jet Speed to our association," said Ford von Weise, President of NAFA.
Jet Speed Aviation Inc. specializes in business aircraft sales and acquisition services, with over 40 years of aircraft sales experience. Their services include aircraft sales and brokerage, acquisition services. inventorying dealer, aircraft records and maintenance evaluation, pre-purchase inspection oversight, management program recommendations, flight operation logistics recommendations and aircraft interior/exterior completion guidance.
The company hasa history of development, operation and ownership of full-service corporate aviation fixed base operations. With their significant experience in aircraft sales, FAA certified repair station maintenance operations, avionics, and completions, Jet Speed holds exceptional qualifications. Their expertise lends to all aspects of corporate aviation, giving their clients a significant advantage.
The Jet Speed sales staff includes professional FAA certified maintenance technicians, giving the company the in-house ability to evaluate information for aircraft under consideration for sale or purchase. The team understands the intricate details of aircraft maintenance status, future aircraft maintenance requirements and the impact these factors have with respect to aircraft value and future ownership costs.
Jet Speed Aviation also has an exclusive database of aircraft for sale listings, access to off-market aircraft and up to date worldwide aircraft market data, providing their clients the information necessary for an educated decision when buying or selling aircraft.The company's industry market knowledge, experienced staff and aircraft market intelligence deliver professional, personalized services for well-informed and efficient transactions.
Much like NAFA, Jet Speed Aviation's commitment, passion for aviation, and wealth of experience deliver exceptional quality and performance. Jet Speed and NAFA foster an environment in which expectations are consistently exceeded, upholding the highest standards of service in the aviation industry.
For more information about Jet Speed, visit JetSpeedJets.com/.
About NAFA:
The National Aircraft Finance Association (NAFA) is a non-profit corporation dedicated to promoting the general welfare of individuals and organizations providing aircraft financing and loans secured by aircraft; to improving the industry's service to the public; and to providing our members with a forum for education and the sharing of information and knowledge to encourage the financing, leasing and insuring of general aviation aircraft. For more information about NAFA, visit www.NAFA.aero.
---