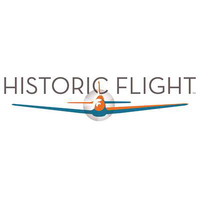 FOR IMMEDIATE RELEASE:  June 20, 2022                                  
Contact: Tracey Cheek
405.850.1292
Historic Flight Foundation Joins National Aircraft Finance Association
Edgewater, MD – National Aircraft Finance Association (NAFA) is pleased to announce that Historic Flight Foundation has recently joined its network of aviation professionals. Historic Flight Foundation (HCC) is a museum showcasing rare aircraft produced between 1927 and 1957, restored to flying condition.
"NAFA values the educational element of aviation that Historic Flight Foundation provides to the overall population and especially to the education community. We welcome HFC to our association and its engaging format for learning principles of science, technology and math," said Jim Blessing, president of NAFA. "Projects that spark imagination and an interest in aviation are what inspire the next generation of flight enthusiasts and pilots."

 Products & Services:
Museum exhibits

Educational programs

STEM emphasis

Facility rentals

 About Historic Flight Foundation:
Historic Flight Foundation is a museum featuring a collection of the most important aircraft produced between 1927 and 1957, restored to flying condition. The mission is to provide an understanding of how aviation has played a key role in shaping history and the future. Every exhibit profiles both the aircraft and its unique story.
Located in Spokane, Washington, HCC partners with educators to bring aviation-based STEM (science, technology, engineering and math) topics to the classroom with modules that fulfill state learning standards, focusing on middle and high school students.
About NAFA: The National Aircraft Finance Association (NAFA) is a professional association that has been promoting the general welfare of aircraft finance for 50 years. Our network of members is comprised of lenders and product service providers who work together to finance general and business aviation aircraft. NAFA sets the standard for best practices in aviation finance by educating its members on the most up-to-date industry trends and best practices. Government legislation, market influences and industry insights allow member companies to provide the highest quality services the industry has to offer. 
---