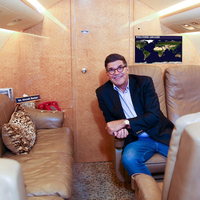 NAFA member Martin Ormon, President and Founder of Aircraft Finance Corporation, compares the benefits of buying versus leasing your business aircraft.
With the new year comes the first full-year's tax filing under the Tax Cuts and Jobs Act of 2017. If your accountant or Chief Financial Officer (CFO) works like most, you'll have already engaged in a couple of briefings on the charges - on adapting to the law's new language - and you probably have another meeting planned to lay out for you the impact of those changes on this year's numbers.
For those looking to buy or lease a business aircraft after holding-off a while to weigh up the impact of the 2017 tax changes, now would be an excellent time to answer a recurring question asked before companies make a major decision on a big-dollar equipment outlay.
Should you buy or should you lease?
Each approach brings its own benefits and limitations, just as leases themselves vary in type to meet the differing needs of the operator.
But Martin Ormon of Aircraft Finance Corporation questions why so many operators are choosing to lease older aircraft, knowing that to keep it at the end of the lease means coming up with a buyout amount for the leasing company. "Otherwise, they walk away with nothing but their receipts," Ormon notes.
While Ormon acknowledges that for later-model business aircraft lease terms may benefit an operator's cash flow picture, "for many of the older aircraft (7 years and up), buying it with today's more attractive finance terms can make more sense for cash flow - and at the end of the term leave the owner with an asset, paid off and wholly owned," he elaborates.
"A lease structure and the supply of good aircraft and low financing costs for 20 years makes more sense financially than leasing."
But then, financing aircraft sales is Martin Ormon's business. He owns and operates Aircraft Finance Corporation, a rare lending operation with regular terms as long as 20 years for older business-turbine aircraft.
Aircraft Finance Corp: The Backdrop
When we last spoke with Martin Ormon in 2016, the topic focused on understanding the benefits to clients from dealing with Aircraft Finance Corp. versus more traditional banks and finance companies, particularly when financing business aircraft aged 10 and older.
Since then Ormon's business has continued to thrive, so we sought his input on the lay of the land in light of a small renewed 'boom' of recent months. Some credit the boom to the 2017 tax-reform law signed into law 13 months ago. Others credit the resurgent economy and strong market growth - a more tentative view recently.
Still others cite both of the above and a resurgence in market demand after a lengthy period in which many buyers held back. Against the backdrop of the Great Recession and the crash in business-aircraft sales, the resurgence, for whatever cause, is welcome among companies servicing business-aircraft transactions.
What hasn't changed is the availability of good finance terms, according to Ormon. "You get the deals from the secondary (market) guys; you don't get the deals from the guys who make the business."
That means operators looking to buy an older jet still face tougher terms than operators who are able to shop for new or near-new aircraft. "Leasing terms aren't what they once were," Ormon claims. "The guys in the leasing business today are struggling more because of the nightmare hit on residual values.
"And the residual value on some of these aircraft has gone beyond hitting bottom - and they're still getting a resurgence in market value because of increased demand."
Aircraft Finance Corporation continues to do a banner business because of its combination of competitive interest rates, competitive down-payment terms and loan terms as long as 20 years.
"The one thing that i've learned , "Ormon offers, "is that interest rates do not dictate demand for aircraft purchases - while it may effect some who don't have the credit history others do."
Used Aircraft Competing Against New
Ormon cites a number of loans recently written by Aircraft Finance Corporation, loans which took advantage of depressed prices of some older aircraft with loan terms more competitive than lease terms.
"With values where they are today, why would anyone buy a new aircraft?" he asked. "With our 20-year amortization system we can make an aircraft less expensive than leasing."
One example Ormon offers is for a Bombardier Challenger 605. The owner's situation had changed and they needed some relief from the cash-flow pressures. "We refinanced that Challenger 605, which ahd payments exceeding $70,000/month on a seven-year amortization. We did it for 20 (years) and their payment came down to about $20,000/month, solving the owner's problem."
Ormon says that many of the finance outfits don't want people to know that 20-year loan terms are available.
Lease Versus Buy
"At the end of the day, that 20-year term gives a lot of people more financial freedom and flexibility," Ormon highlights.
Todday's terms available from financing firms like Martin Ormon's make financing more attractive than leasing. "You'd still have to buy out the residual value to own that aircraft at the end of the lease. That or accept never owning the airplane."
Weighed against a lease structure with today's supply of good aircraft, the low financing costs for a 20-year term makes borrowing to buy more financially sensible than leasing, Ormon stresses, adding that Aircraft Finance Corporation underwrites its own financing, which makes dealing with the company more streamlined.
This different approach works for the buyers Ormon finances, for the sellers he helps sell their old aircraft, and for Aircraft Finance Corporation of a business.
Ormon's small aircraft finance bank began operations in August 2000, and he let it make money for him while he continued in his own business. "I didn't think much more about the small amount of business we were doing ... until the downturn," he recalls.
"Now, it's going great, because we help people and they come back again for their next deal."
It's good for Business Aviation - and what's good for Business Aviation is good for the aviation economy.
This article was originally published in the February issue of AvBuyer Magazine.
---