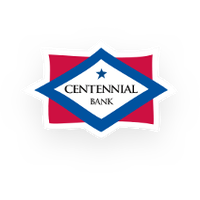 FOR IMMEDIATE RELEASE: May 12, 2022
Contact: Tracey Cheek
tlc@nafa.aero
405.850.1292
Centennial Bank Joins National Aircraft Finance Association
Edgewater, MD – National Aircraft Finance Association (NAFA) is pleased to announce that Centennial Bank has recently joined its network of aviation professionals. Centennial Bank helps finance aircraft purchases and Small Business Administration loan services for first-time buyers as well as those trading up or refinancing current aircraft.
"NAFA members appreciate having member financial institutions available to consult as they manage their aircraft acquisitions, sales and refinancing transactions," said Jim Blessing, President of NAFA. "The financial side of purchasing aircraft brings many challenges to our members. Having Centennial Bank as a NAFA member will serve our members well and we welcome them to our organization."
Products & Services:
Financing and refinancing of aviation products

U.S. Small Business Administration and USDA programs
About Centennial Bank:
Centennial Bank provides a broad range of financial services, with an emphasis on aviation transactions. With locations in Arkansas, Florida, Alabama and New York, Centennial Bank strives to provide convenience and expertise to clients with a full array of financial products. Aircraft lenders understand the unique needs of aviation owners-- most are pilots themselves--and can address aircraft financing concerns from providing structuring advice to managing transactions.
Centennial Bank, a Home Bancshares (NYSE:HOMB) company, is a full-service financial institution with branches in Florida, Arkansas, Alabama and New York with $15 billion in total assets. For more information, please visit www.my100bank.com. Centennial Bank, Member FDIC, Equal Housing Lender. All loans subject to credit and collateral approval.
About NAFA: The National Aircraft Finance Association (NAFA) is a professional association that has been promoting the general welfare of aircraft finance for 50 years. Our network of members is comprised of lenders and product service providers who work together to finance general and business aviation aircraft. NAFA sets the standard for best practices in aviation finance by educating its members with the most up-to-date industry trends and best practices. Government legislation, market influences and industry insights allow member companies to provide the highest quality services the industry has to offer.
---