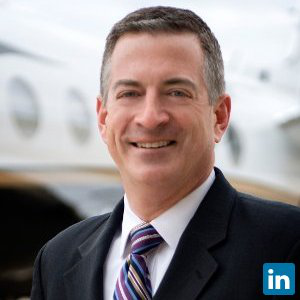 President & CEO
Portsmouth, New Hampshire, United States
Mr. Lee Rohde, founder, President and CEO of Essex Aviation Group, Inc., brings over 30 years of experience in financial and operational analysis, manufacturing, distribution and corporate business development. He advises aviation related clients on a wide range of aircraft acquisition, strategic planning, financial, operational and management matters.
Throughout his career, Lee has worked with a wide range of clients representing them throughout the process of new and pre-owned aircraft acquisitions, providing analysis of their current flight operations, as well as audits and management reviews of both internal and third party flight departments and charter management companies. Additionally, he has managed a number of new aircraft completions, pre-purchase inspections and retrofit projects for various aircraft types. Lee has also managed the exportation and importation of aircraft on and off the United States and various foreign registries. Lee has worked with all the major fractional, membership and jet card programs representing clients in the acquisition, leasing, re-purchase by the program provider and sale or leasing of various fractional shares to third parties.
Lee is a member in good standing of the National Business Aviation Association (NBAA), National Aircraft Finance Association (NAFA) and the Aircraft Owners and Pilot Association (AOPA). Lee is currently an active Board Member of the National Aircraft Finance Association (NAFA) and member of the Robb Report Corporate Aviation Advisory Board and was a previous member of both the National Aircraft Resale Association (NARA) Associate Member Advisory Council and the Board of Directors.
Lee has held prominent positions within top aviation services companies. Most recently, Lee served as President and COO of Aviation Management Systems, Inc., (2005 – 2013) an aviation consulting and aircraft acquisition firm. Lee was co-founder of Londavia, Inc., (1988 – 2004) which was acquired in 2001 by the Marmon Group becoming part of the AmSafe Aviation group with offices in the United States, United Kingdom, China and Singapore.
Lee served in the United States Air Force where he held top-secret security clearance and achieved the rank of Staff Sergeant before his honorable discharge. Lee is an experienced pilot and holds a MBA and BA in Economics from the University of New Hampshire