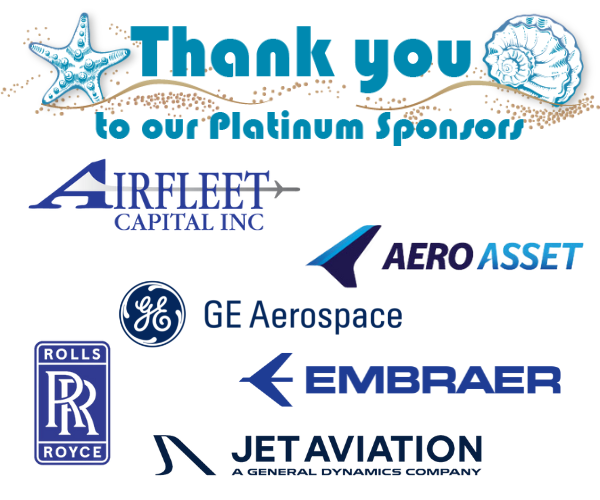 Event Details
The Ocean Reef Club is currently at capacity. We are maintaining a waitlist, and have an overflow hotel.
If you have reservations at any other hotel other than Ocean Reef Club or The Reefhouse (overflow hotel), please contact Karen Griggs immediately at karengriggs@NAFA.aero
or Kathi Black at admin@NAFA.aero and provide your preferred arrival/departure dates, and we will work to get you housed.
---
NAFA's 51st Annual Conference Delivers a World-Class Experience for Members
Exclusive opportunity to hear important industry insights in aviation and finance
The National Aircraft Finance Association (NAFA) 51st Annual Conference promises a once-in-a-lifetime opportunity to hear the latest in the business aviation industry. Explore leading-edge ideas from insightful leaders in the industry to inspire and challenge you to improve your business.
This is the only event catered to the needs and special interests of those in the business aviation finance industry. This year's can't-miss event promises to develop your understanding of the current state and timely changes that affect the business aviation industry.

The NAFA 51st Annual Conference features a wide array of speakers targeted to help business aviation professionals navigate important changes in the current landscape. Highlights of the event include:
Keynote Jeff Kreisler, a Princeton-educated lawyer turned award-winning comedian, best-selling author and champion for behavioral economics. Jeff uses behavioral science, real life and humor to understand, explain and change the world.
Network with peers and experience the Ocean Reef Club's incredible view and splendor at Friday's networking breakfast.
An opportune moment to hear the status and outlook for the US economy and monetary policy from Dr. LaVaughn Henry, senior economist for the Council of Economic Advisors in the Executive Office of the President of the United States.
Explore insights regarding the status and changes within business aviation, including the industry's economic status, FAA regulatory updates, a pre-owned market update, aircraft values and protecting the safety of your assets.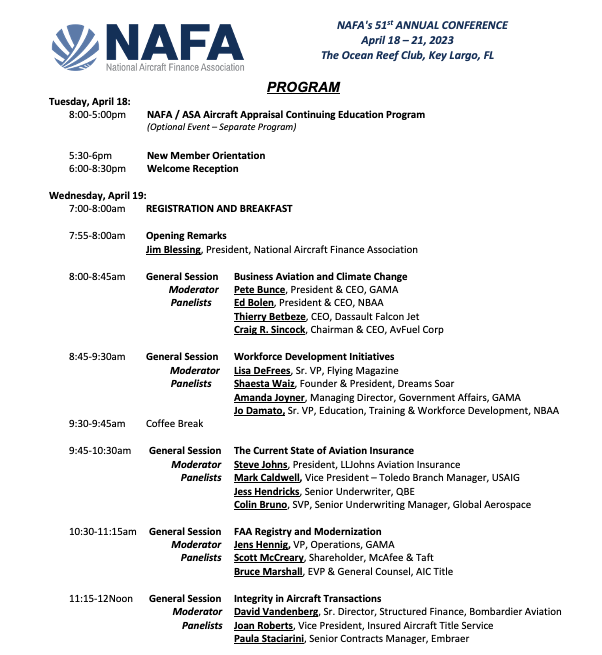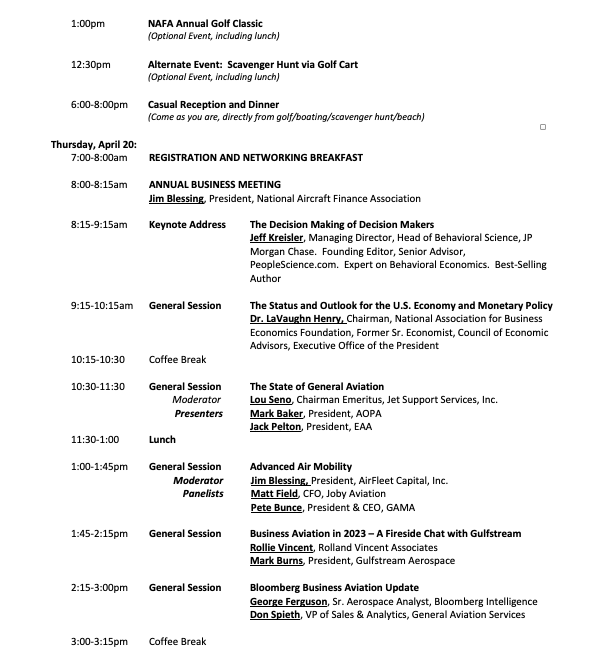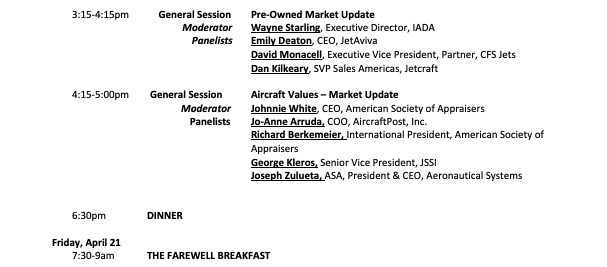 NAFA Announced Jeff Kreisler as Keynote Speaker
for 51st Annual Conference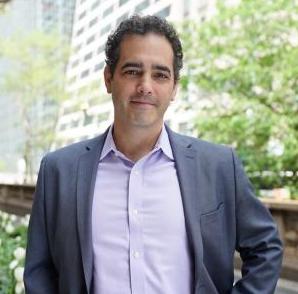 The NAFA Aircraft Finance Association (NAFA) is pleased to announce that Jeff Kreisler will be the keynote speaker at their upcoming 51st Annual Conference to be held April 18th through April 21st, 2023 at the Ocean Reef Club in Key Largo, Florida.
Jeff Kreisler is just a typical Princeton educated lawyer turned award-winning comedian, best-selling author and champion for behavioral economics.
Jeff's second book - Dollars and Sense: How We Misthink Money and How to Spend Smarter - was co-authored with Dan Ariely and is available in over 20 countries. It was dubbed Best Business Book of the Year by Business Insider. Investopedia, Huffington Post, Audible, and the Washington Post ("A brilliant and accessible look at behavioral economics").
He is Head of Behavioral Science for JP Morgan Chase and Founding Editor of PeopleScience, a thought-leadership platform for applied behavioral science. He won the Bill Hicks Spirit Award for Thought Provoking Comedy, writes for TV, politicians & CEOs, has appeared on CNBC, CNN, Fox News, MSNBC, CurrentTV, Sirius XM and at events across most of this planet.
Jeff uses behavioral science, real life and humor to understand, explain and change the world. The New York Times calls him "Delectable", The Economist said his was "A truly special event" and his kids still think he's "cool". His first book was the satire Get Rich Cheating.
Please refer to Conference and ASA Program Agendas or the Conference Mobile App for more information on our conference speakers.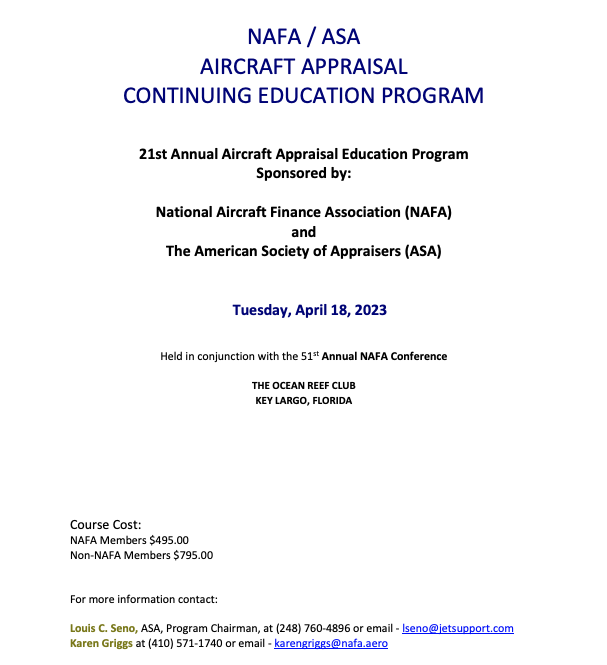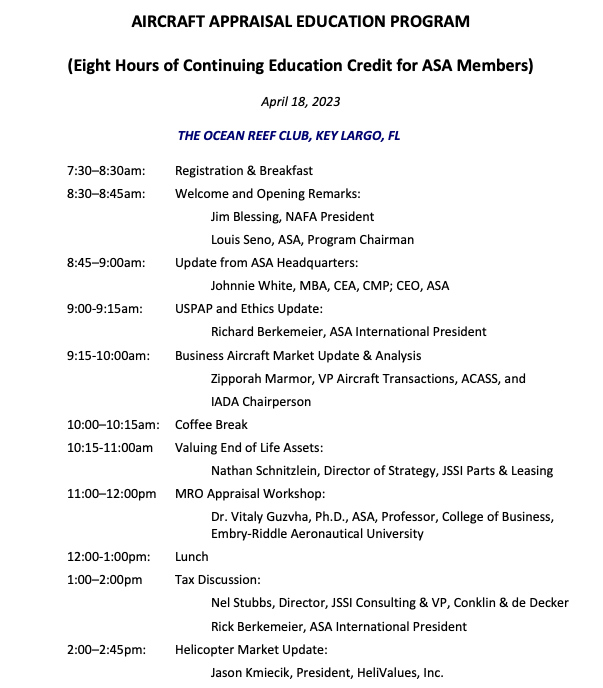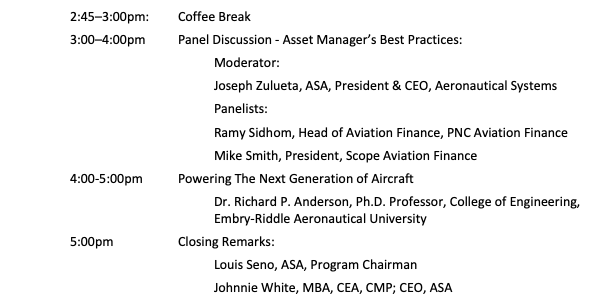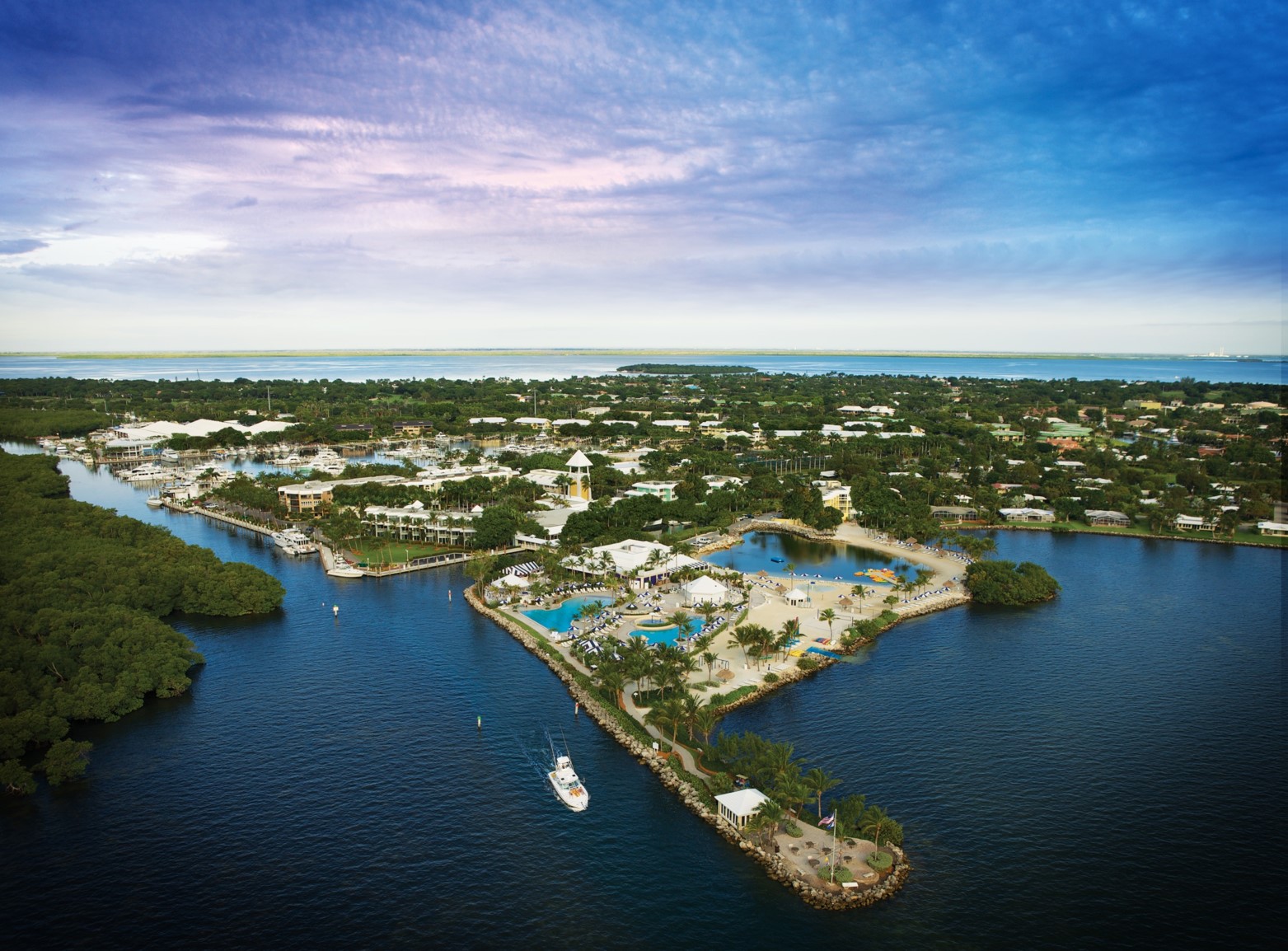 This year's Conference takes place in Key Largo, Florida, at the exclusive Ocean Reef Club from April 18 through April 21, 2023. The Ocean Reef Club is a private club only available to members, guests, and now attendees of NAFA.
The NAFA 51st Annual Conference setting at the Ocean Reef Club will deliver attendees an exclusive, world-class experience. This may be your only chance to experience the private club that offers: 
Two championship 18-hole courses, a rarity in the Florida Keys.  

Enticing dining collection of a dozen restaurants and lounges offering a variety of waterfront vistas, including the ocean, marina and golf course. 

The 8,000-square-foot Spa at Ocean Reef Club reflects all the beauty of its surroundings amidst 2,500 tropical acres in the Florida Keys. 
Private marina and airport.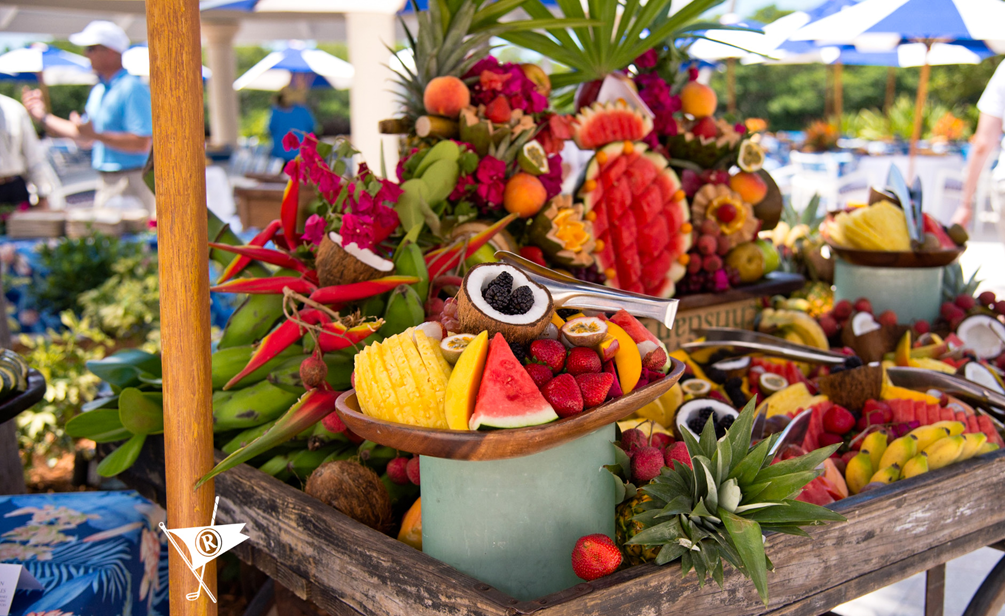 Ocean Reef Club has 7 dinner restaurants available, and Reef Eats (room service). These restaurants do not require reservations:
Raw Bar
Burgee Bar
Palm Court
Town Hall Waterside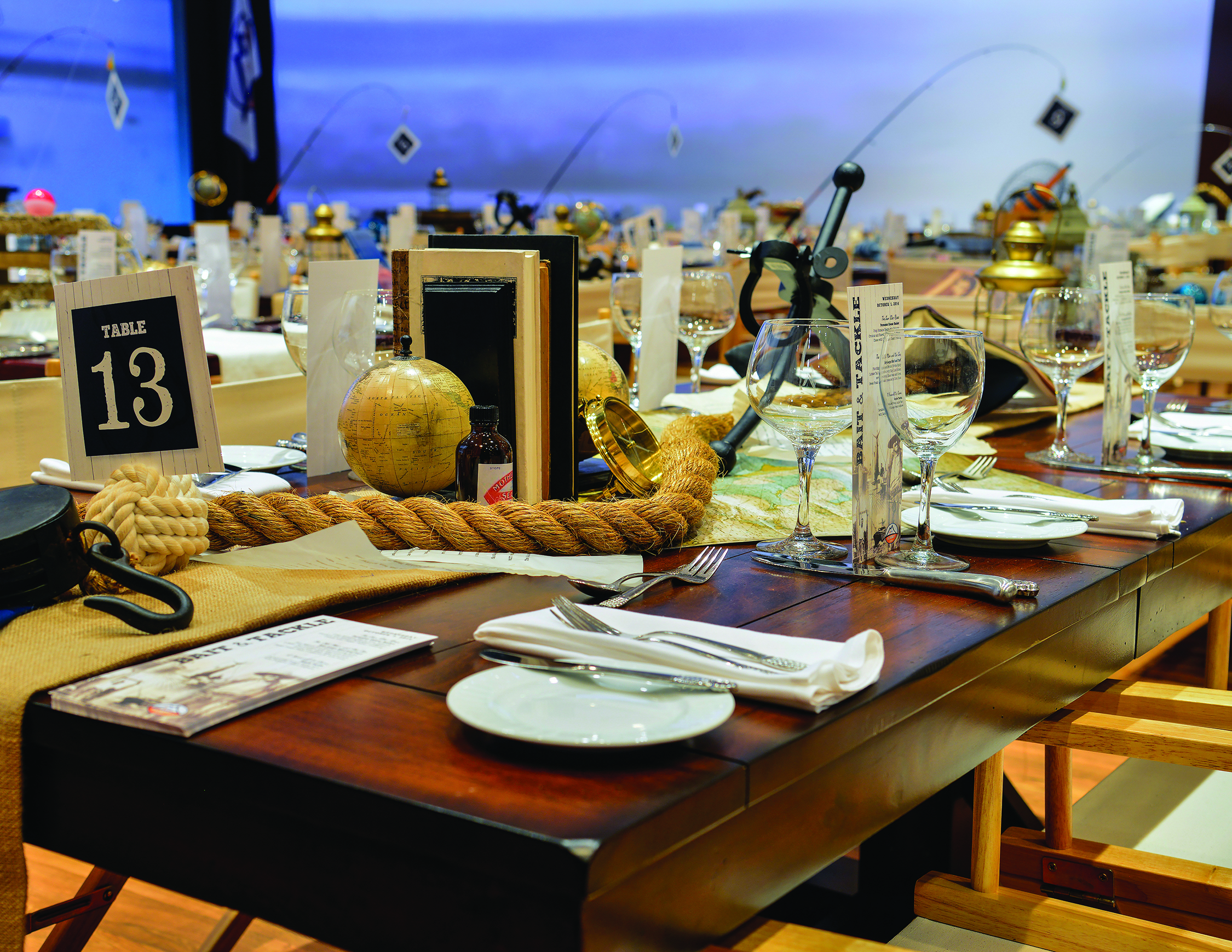 These restaurants accept reservations. Note: Reservations may not be made prior to 24-hrs in advance:
The Ocean Room
The Islander
Gianni's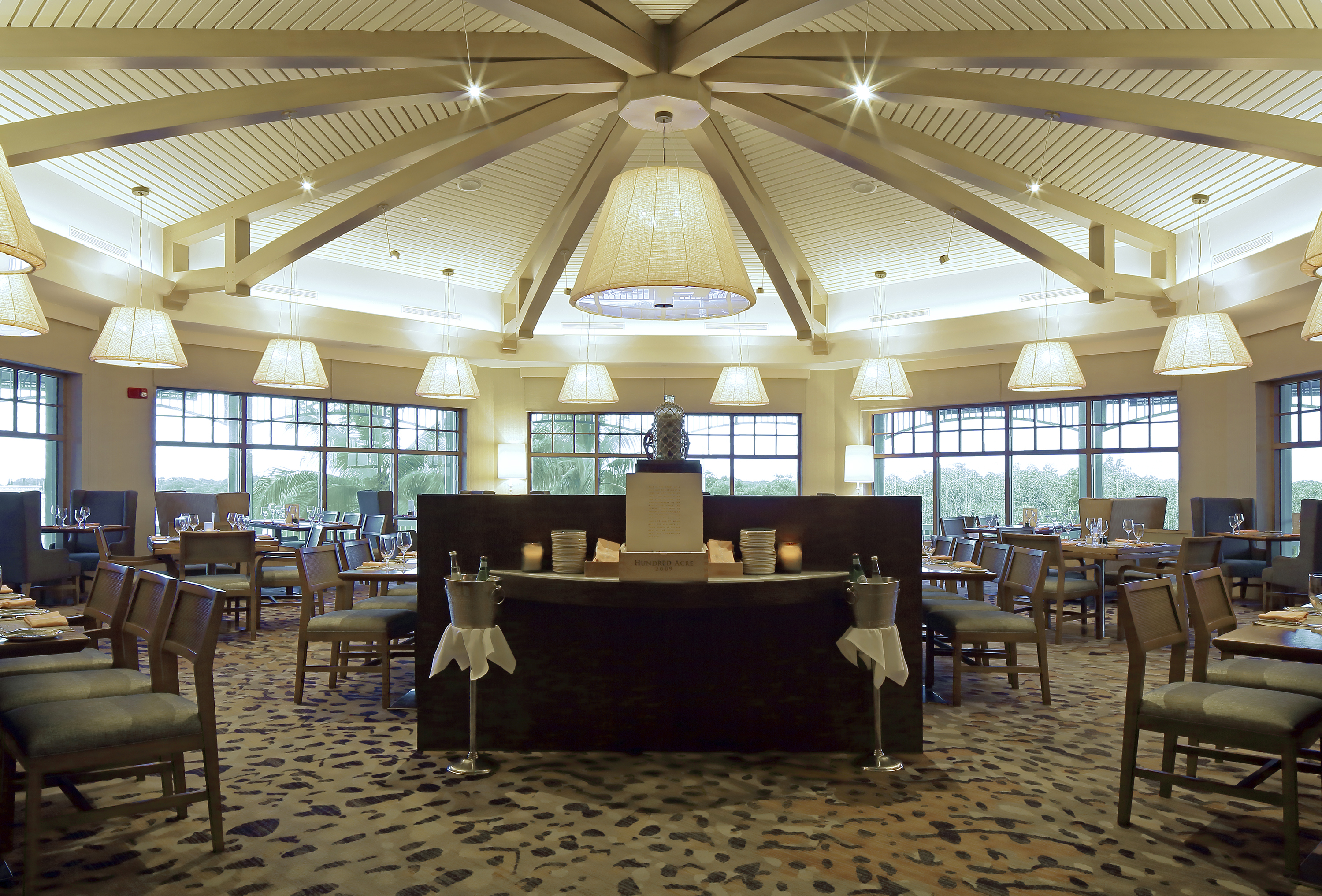 There are 3 other restaurants on property, but are MEMBERS-ONLY, NOT AVAILABLE TO OUR ATTENDEES:
CH Prime
CH Lounge
The Grill Room
---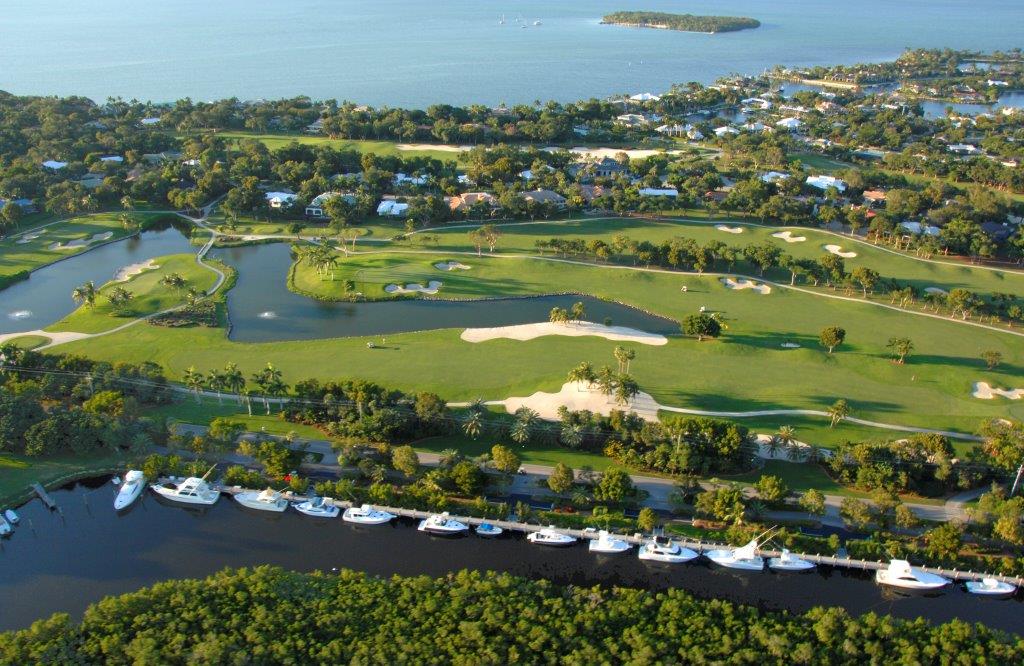 The 2023 NAFA Charity Golf Event will take place on Wednesday, April 19th on The Hammock Course located not far from where we are staying on the Ocean Reef Club property. This year we will be playing a scramble type format with a shotgun start promptly at 1pm. Box lunches will be provided to all golfers.
---

---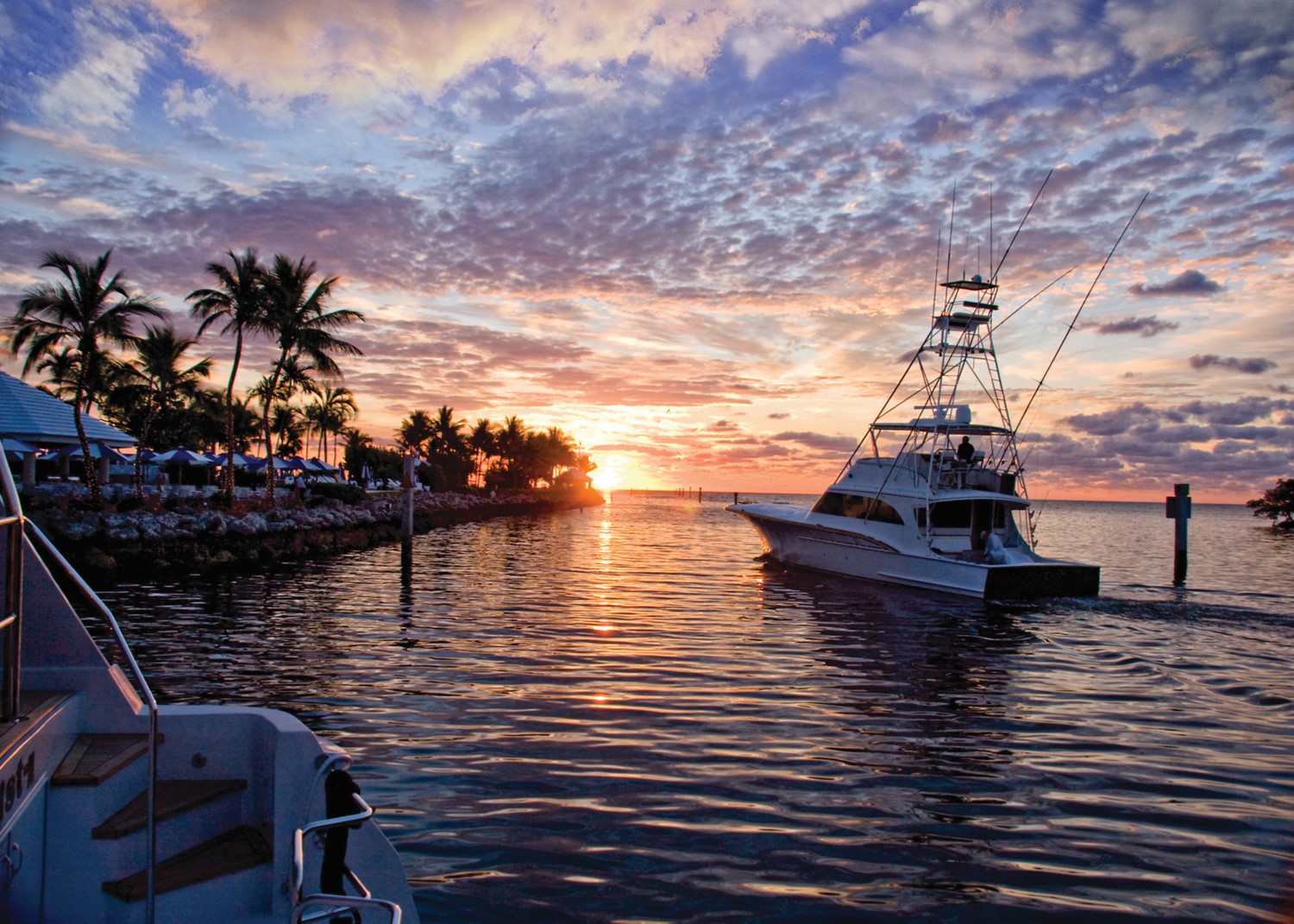 Alternate Activity - Scavenger Hunt
Get to know the Club and its amazing community with this fun and exciting scavenger hunt.
Teams of 4 will travel around the Club in a golf cart answering questions, taking fun photos, and collecting items along the way. Teams will be rewarded points for correct answers and the team with the most points at the end will be the winner.
Lunch is included.