New Expanded Agenda -
Including an extra day of content!
Register now for NAFA's 49th Annual Conference at The Meritage Resort in beautiful Napa Valley, CA.
In addition to an amazing Keynote speaker, Dawn Hudson, we are also covering relevant industry topics such as:
State of aviation insurance

Detecting fraud in aircraft transactions

The future of aviation an urban mobility

Aviation industry townhall

New aircraft showcase

Preowned market update
Register now to connect with the people and ideas that finance the world's business and general aviation aircraft.
Ticket Name
Sale Ends
Price
Quantity

Early Bird Registration (Member)

31 Jan 2020

$1150.00

Sale Ended

Regular Registration (Member)

01 Mar 2020

$1300.00

Sale Ended

Non-member Regstration

01 Mar 2020

$1950.00

Sale Ended

Guest Registration

01 Mar 2020

$275.00

Sale Ended

NAFA Aircraft Education Program

01 Mar 2020

$495.00

Sale Ended

Golf Registration - Specific Team

01 Mar 2020

$125.00

Sale Ended

Golf Registration - Random Pairing

01 Mar 2020

$100.00

Sale Ended

Alternate Activity- Lunch & Wine Tasting

01 Mar 2020

$100.00

Sale Ended

Click here to enter your promotional code
Event Details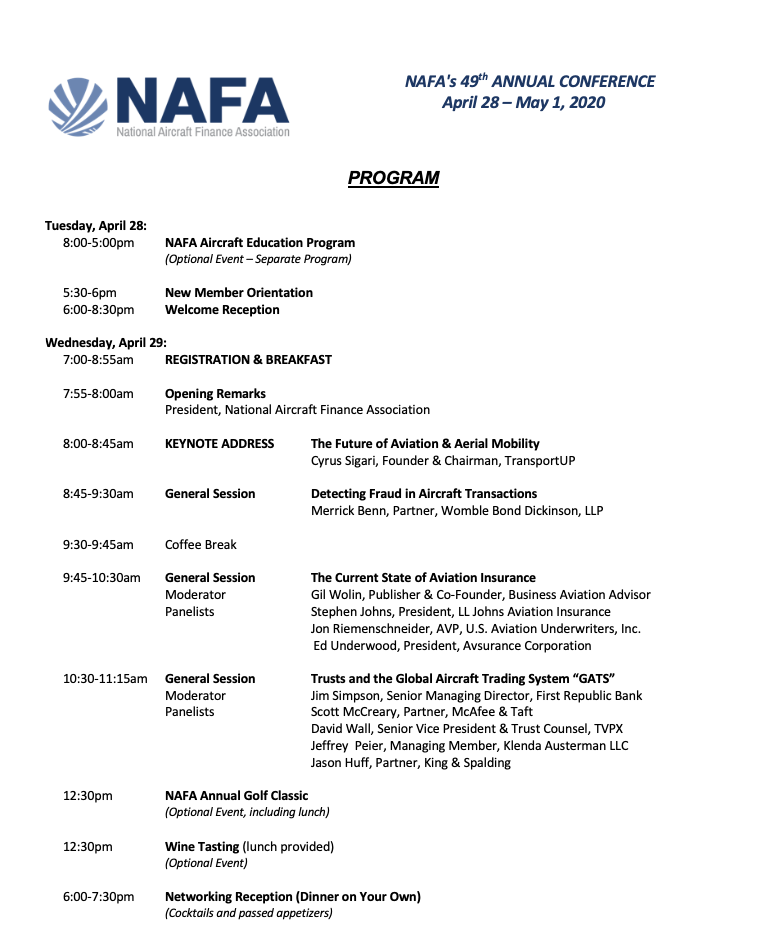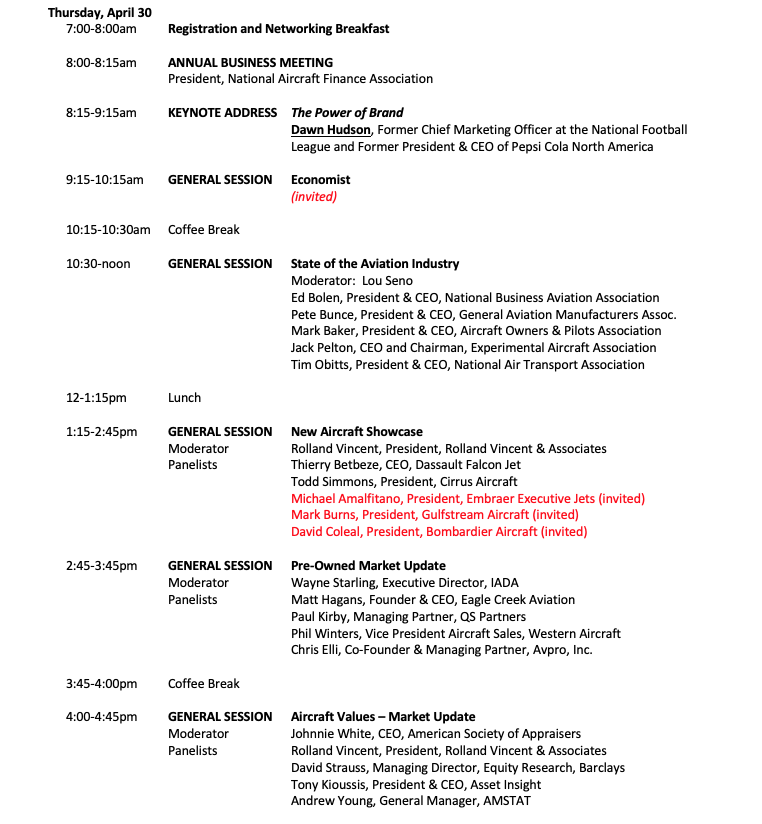 NAFA Announces Dawn Hudson as Keynote Speaker for 49th Annual Conference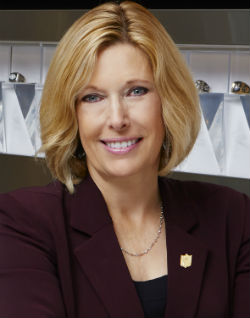 The National Aircraft Finance Association (NAFA) is pleased to announce that Dawn Hudson will be the keynote speaker at their upcoming 49th Annual Conference, to be held April 28th through May 1st, 2020, at The Meritage Resort in Napa Valley, California.
Widely recognized as one of the most important female business executives of the past decade, Dawn Hudson is the former Chief Marketing Officer at the National Football League and the former President and CEO of Pepsi Cola North America. She has led an impressive career spanning high-level posts in media, retail, consumer goods, consulting, and healthcare at some of the biggest corporations in the world.
Hudson's work has been focused on revolutionizing and strengthening brands' positioning and marketing, tapping into culture change as fuel for innovative business strategies, and championing inclusive leadership and diversity. She has been recognized as the "Most Vital Leader in Tech, Media, and Marketing" by AdWeek – topping a list of 50 industry titans – and twice as one of Fortune magazine's "50 Most Powerful Women in Business."
Dawn Hudson is an electric speaker – as an advocate of smart reinvention and growth, she shares insights on turning adversity into an advantage, building a global presence, and why in today's business climate innovation must be central to everything from distribution to selling stories to human capital management. Hudson speaks about the power of brand, how to embrace change and drive innovation, and the importance of strong and inclusive leadership.
"Dawn Hudson is an amazing mind with sharp insights into driving innovation, leadership and inclusion for successful business practices, and we are thrilled to have her speaking to our members and other attendees at the upcoming conference," said Jim Blessing, President of NAFA. Hudson will present on "Inclusive Leadership" for the approximately 250 attendees on Thursday, April 30th, 2020.
Makes plans to attend by registering online now!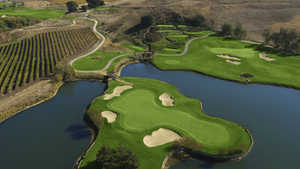 Please join us at NAFA's 49th Annual Conference and enjoy a round of golf at the beautifully designed Eagle Vines Golf Club. This year we are offering random pairings for greater networking or the option to form specific teams.
The additional charge to create specific teams will go to our Scholarship Fund.
Please refer to the event registration page for specific pricing.
More about Eagle Vines Golf Club:
Located about 4 miles (approximately 15 minutes) from the resort, and founded on the belief that nature and golf were meant to co-exist in magnificent harmony, Eagle Vines has made a profound commitment to protecting the extraordinary natural environment of beautiful Napa Valley.
Growing cherry trees and a vast array of celebrated specimen oaks stand undisturbed as 18 holes weave amongst them, bringing majestic character to the course designed by Johnny Miller.
After four tranquil hours experiencing the rolling hills, babbling creeks, shimmering waterfalls, working vineyards, glorious trees, countless birds, and an occasional birdie, you will fully understand the essence of Eagle Vines...a first-rate facility highlighted by a challenging golf course perfectly blended with the beautiful landscape of the Napa Valley.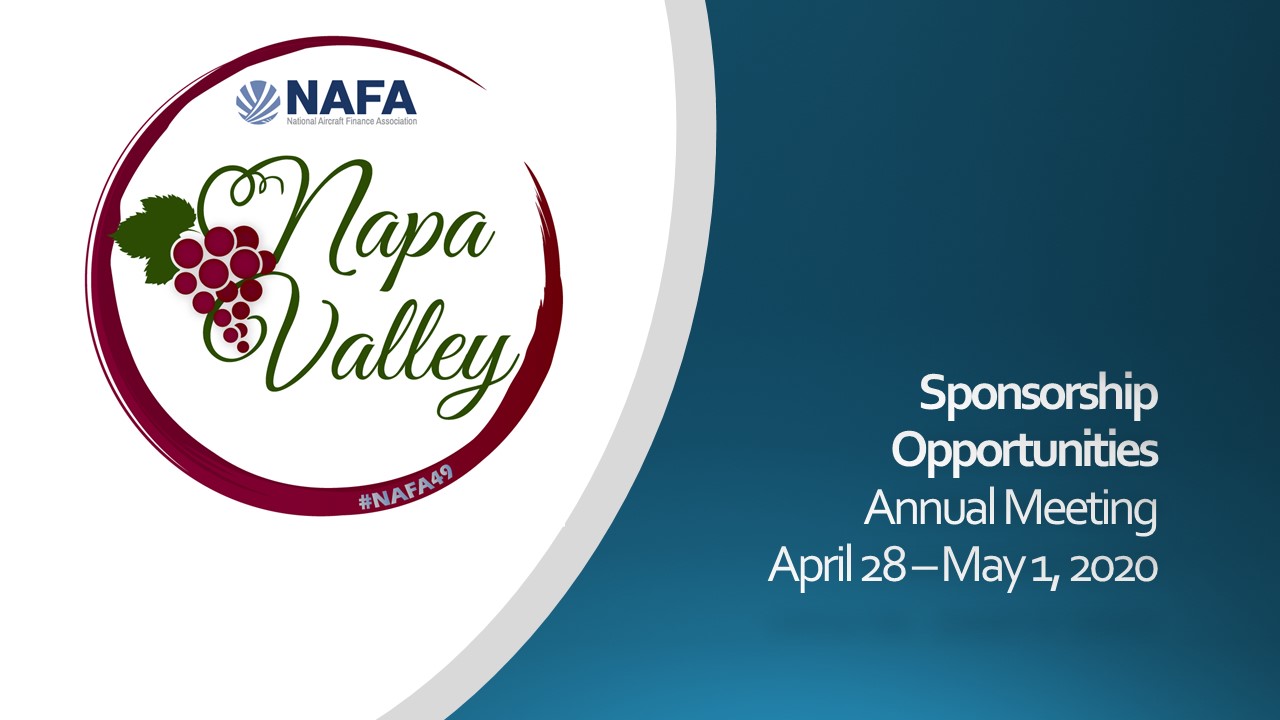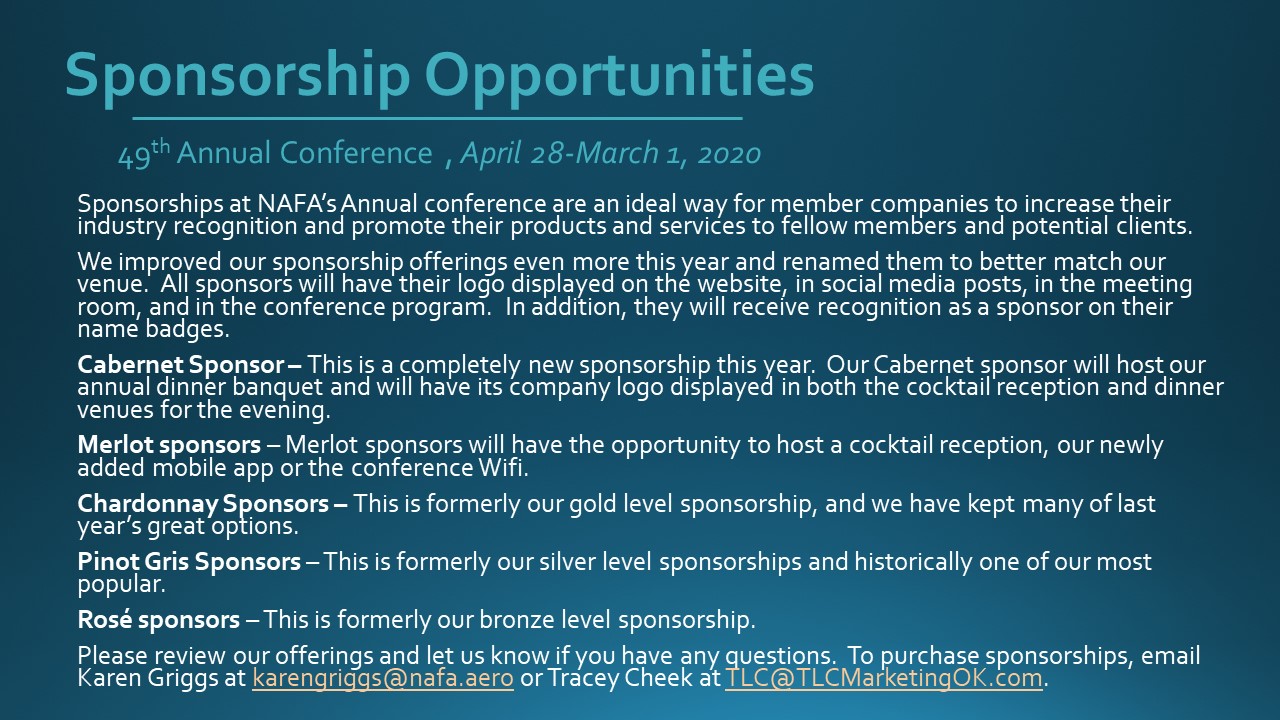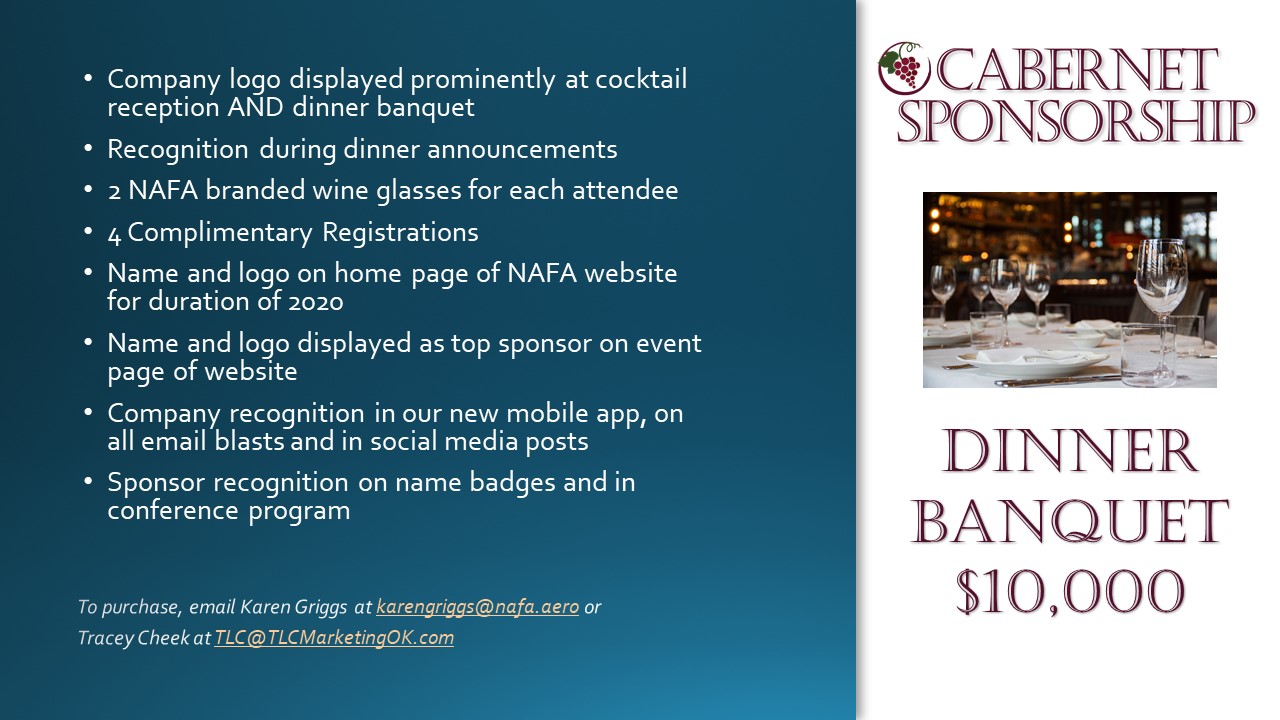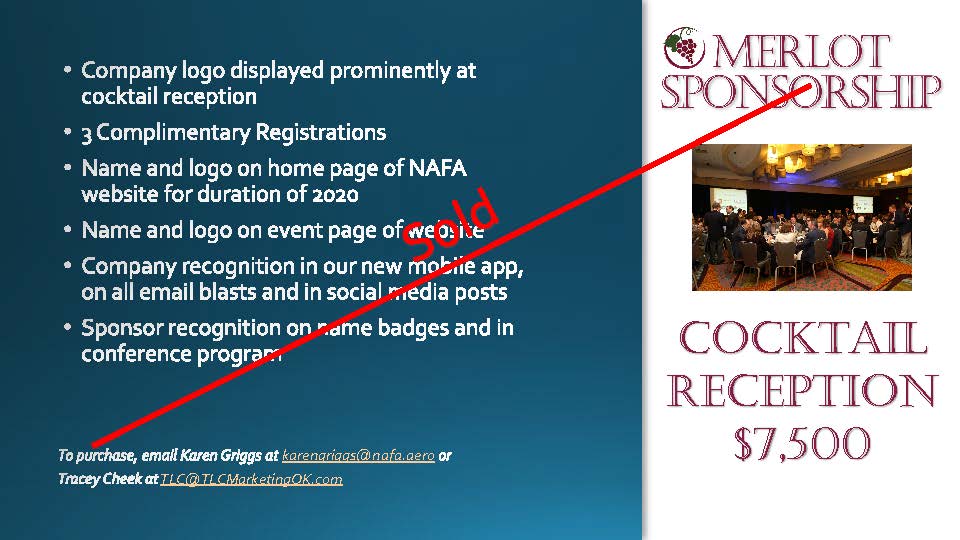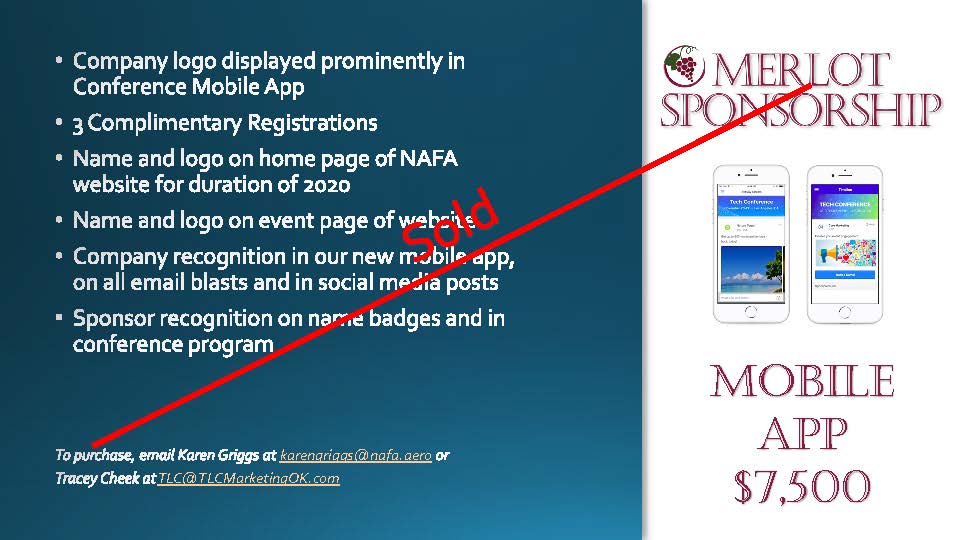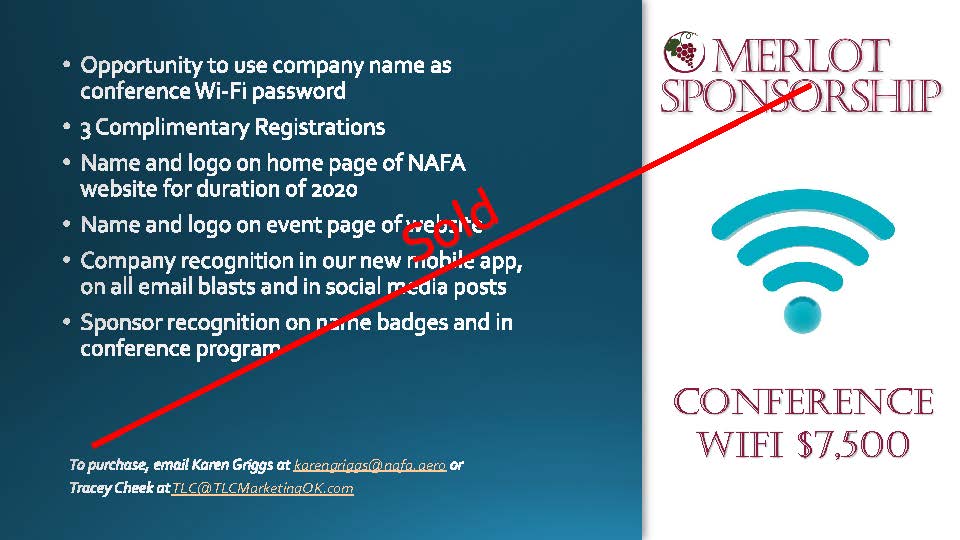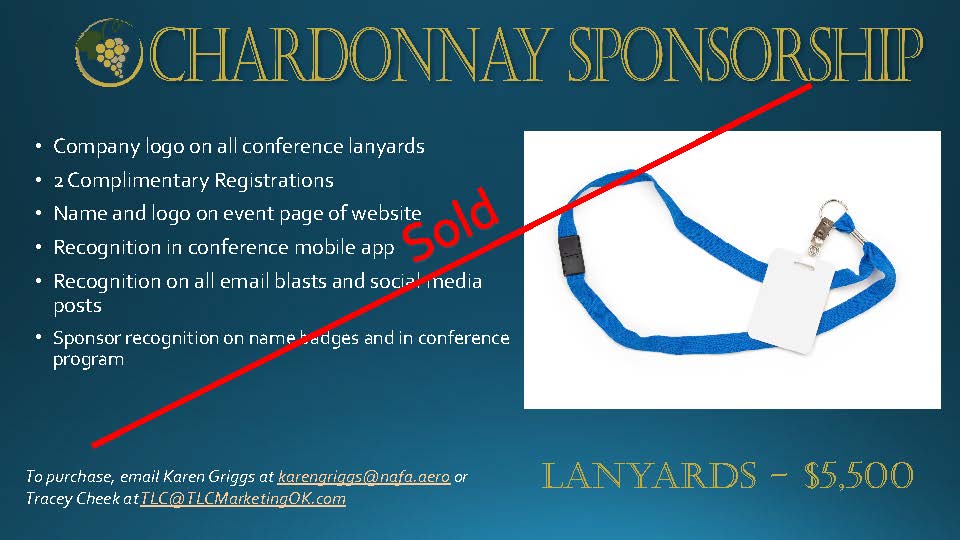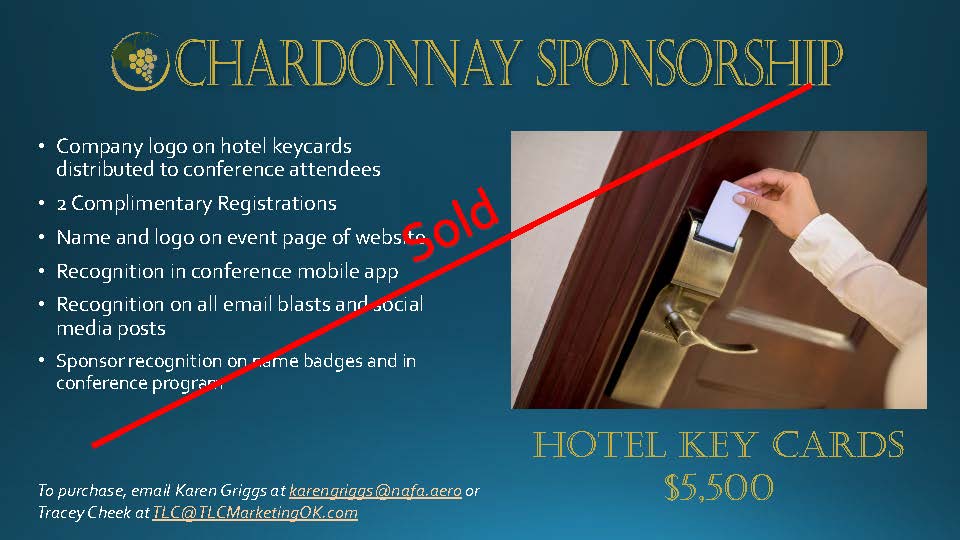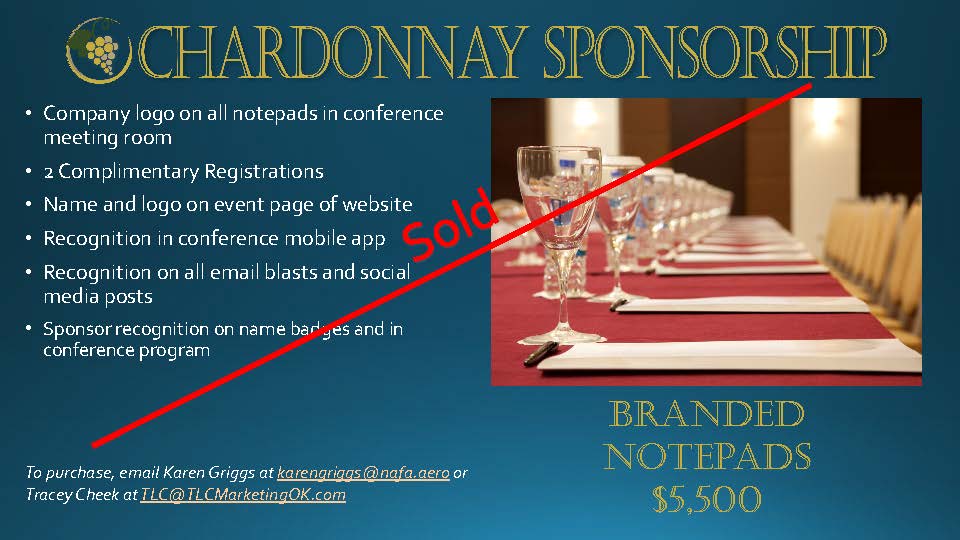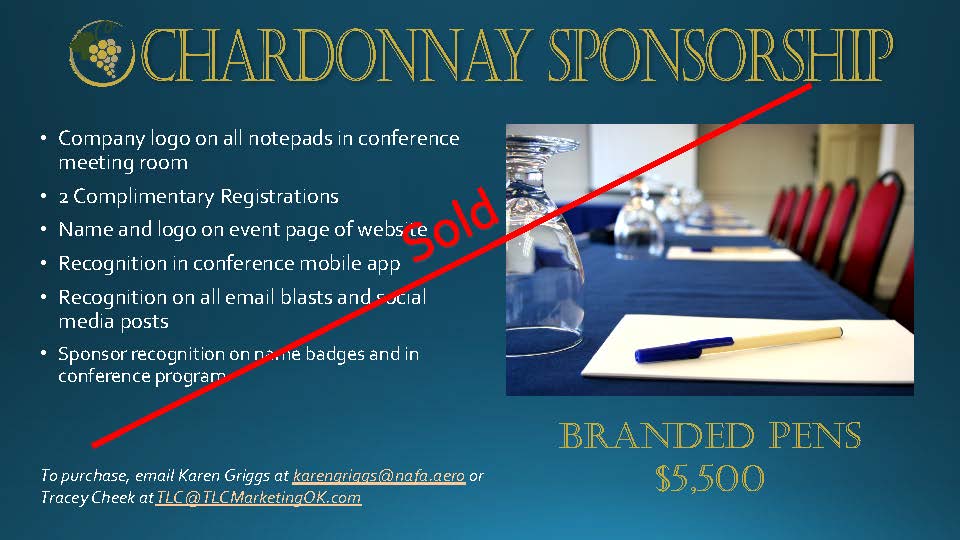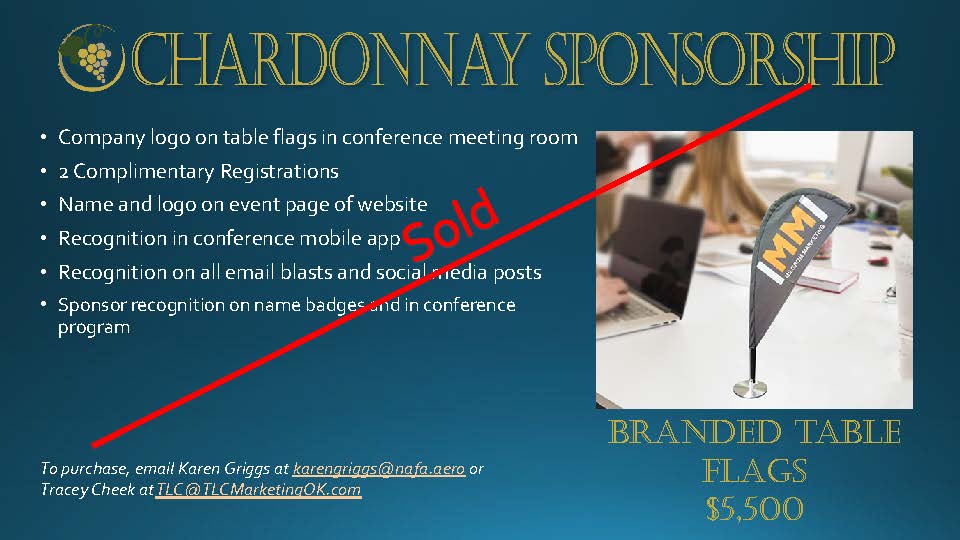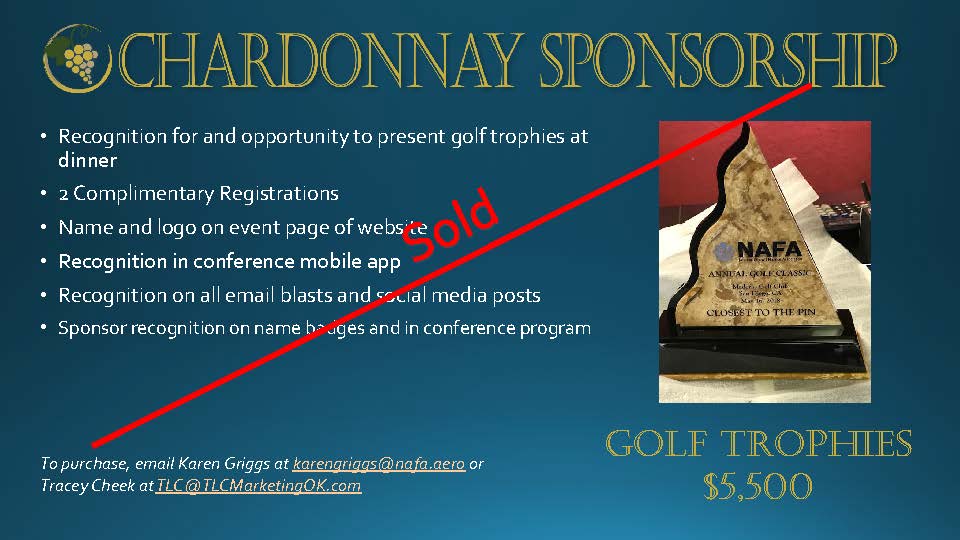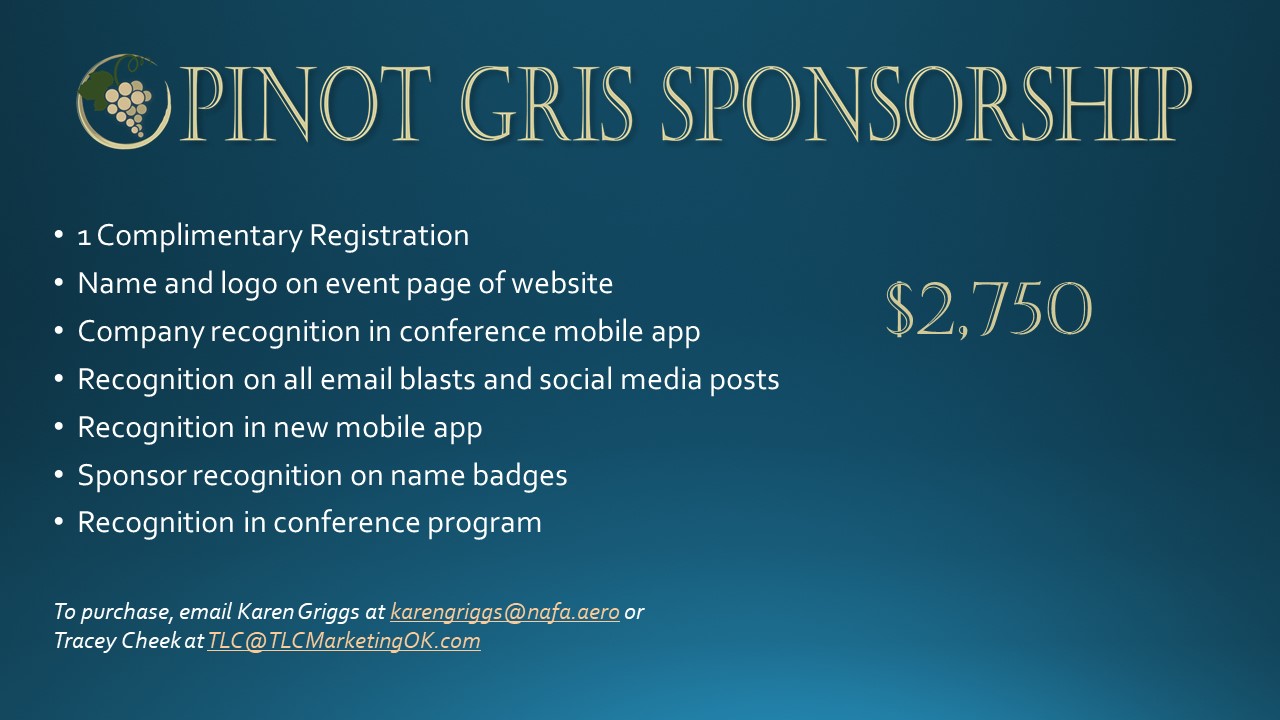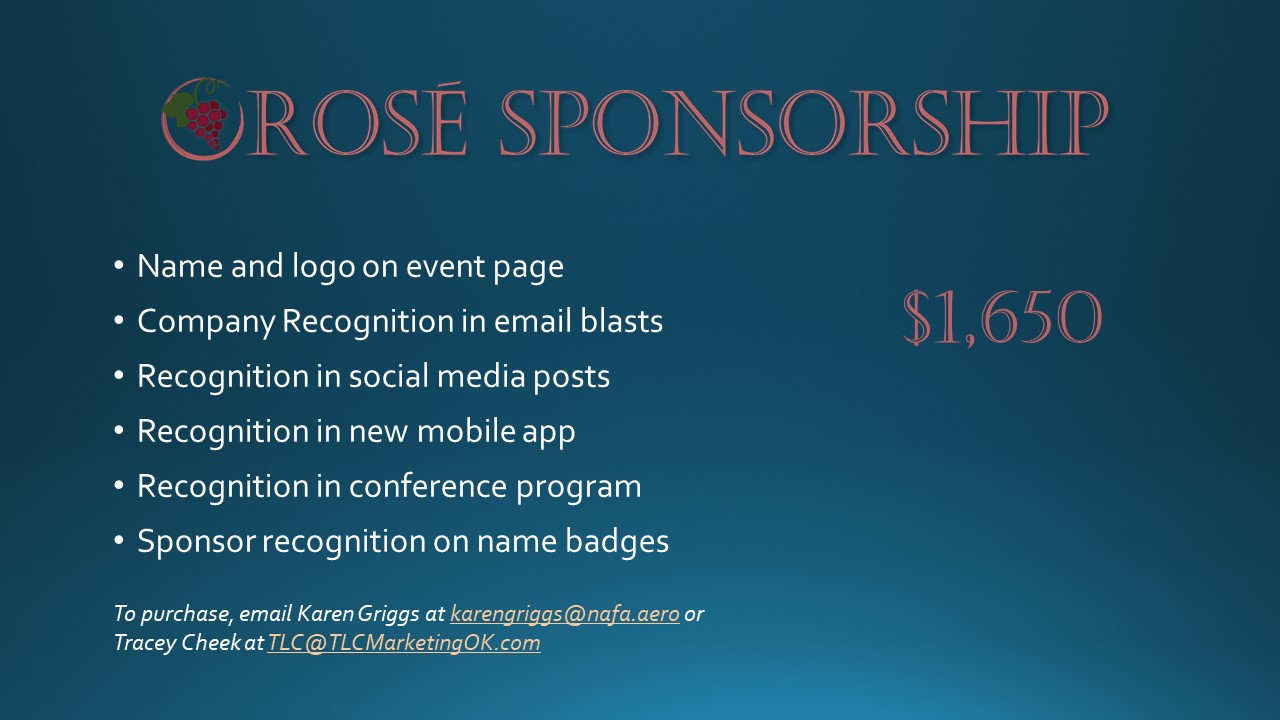 Lunch and Wine Tasting at The Village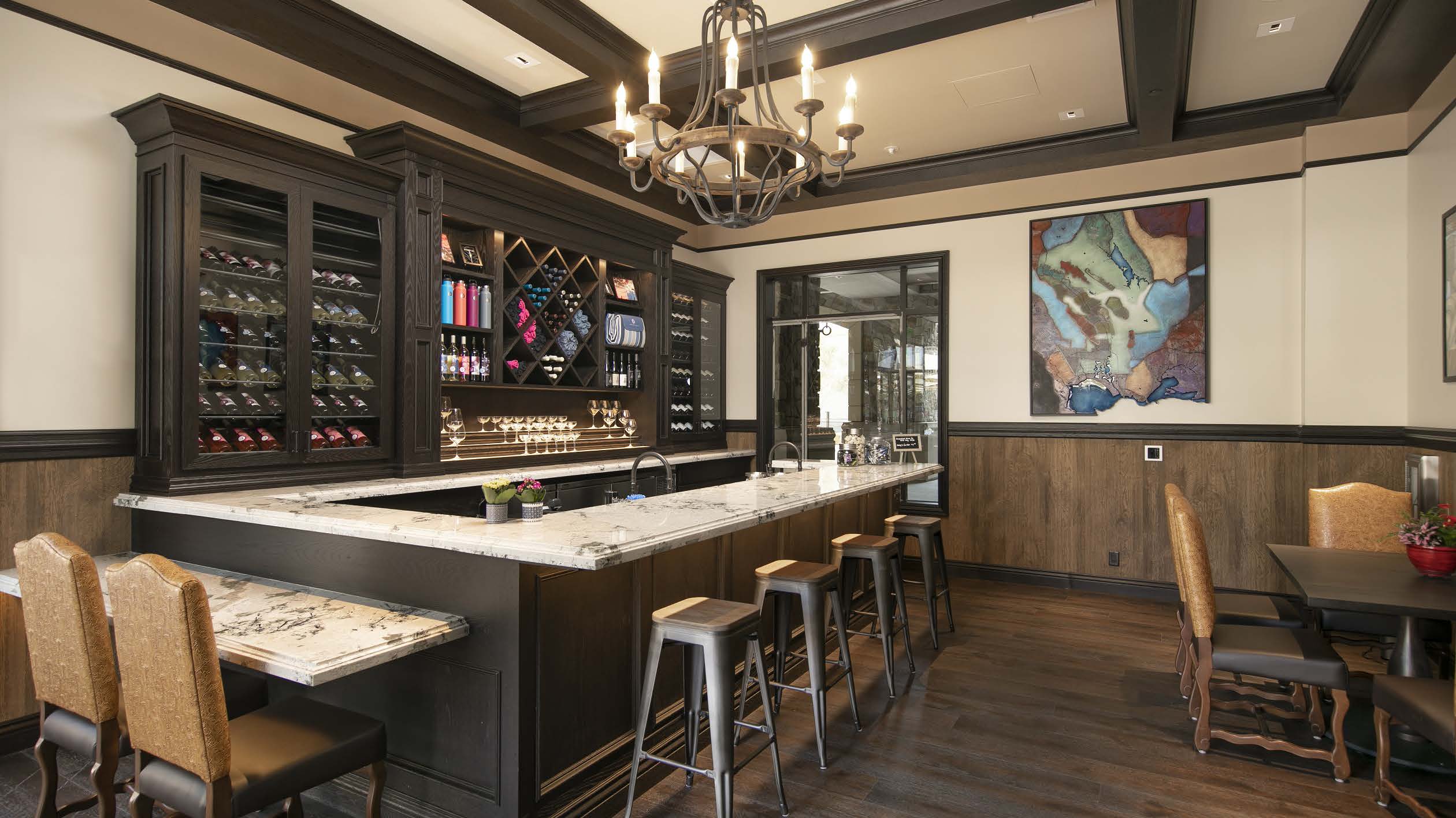 Join us at The Village, located directly across the street from The Meritage Resort, to explore their 8 winery tasting rooms and 1 local brewery tasting room. Your voucher* is good towards options such as a tasting flight, bottle of wine, glass of wine, or retail at a tasting room of your choice. Enjoy the best of Napa with this unique wine country experience.
*Voucher must be redeemed in full at one tasting room and cannot be split between tasting rooms.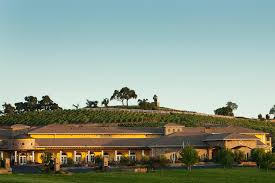 The Meritage Resort & Spa blends an iconic, one-of-a-kind place with locally inspired enrichment programs designed for the curious traveler. A uniquely laid-back approach to the good life reflects its warm, sunshine-soaked California roots. This acclaimed resort in Napa Valley, truly sets the stage for the extraordinary.

The unique property offers an exclusive encounter with an iconic location along with a flawless blend of luxury and comfort. Indulge in lavish accommodations, inimitable amenities, and world-class service while being inspired by the natural beauty, effortless bliss, and unexpected adventure found at The Meritage Resort & Spa.
A link to book rooms at the Meritage will be provided after registering to attend NAFA's 49th Annual Conference. Your registration confirmation email will contain a link to the hotel room reservation site.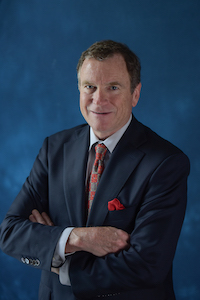 Brian Foley, Founder
Brian Foley Associates (BRiFO)
Brian Foley founded the aviation consultancy Brian Foley Associates (BRiFO) in 2006 to help aerospace firms with strategic research and guidance. He also formed AvStrategies, which brings together investors and great companies involved in aviation.
BRiFO consulting services cover market research, strategic planning and expert witness. AvStrategies investment engagements include investor due diligence, growth capital raises and buy-side / sell-side assignments. Clients are aviation companies, the investment community and other consultancies.
His career began at Boeing Commercial as a flight test engineer and marketing manager. Later he was Marketing Director at Dassault Falcon Jet. He also worked with a Wall Street investment firm as a Series 7 registered representative.
He serves on the Transportation Research Board and is a member of the business aviation, helicopter, commercial airline and UAV system subcommittees.
Mr. Foley holds a dual BS degree in aerospace and mechanical engineering from Syracuse University, an MBA from Seattle University and completed Wharton's Executive Education Program in Corporate Governance. He is an instrument-rated private pilot.