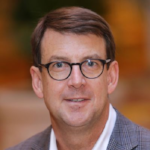 As we approach the midpoint of 2017, I wanted to thank the NAFA Membership and Board for providing this opportunity for me to lead this fine organization, and also express my commitment to continue the success of what our preceding Presidents and Board Members have established over the years.
As we look back upon the founding of NAFA almost 50 years ago and the contributions to the success of the organization these prior leaders have made, I wanted to note with enthusiasm the creation and introduction of the Lifetime Achievement Awards that were presented at this year's Annual Meeting. Two well deserving - and long time - members of NAFA were conferred this inaugural award – Joe Dini and Lou Seno. They are both excellent examples of the leadership and vision that established, nurtured and expanded this aviation association into what it has become today.  We owe them – along with countless others– a debt of gratitude for their contributions and wish them well in the next chapters of their lives and careers.
NAFA members proudly finance - support or enable the financing of - general and business aviation aircraft throughout the world.  NAFA helps facilitate, encourage and foster this by providing a forum and platform to connect the people and ideas that finance the world's business and general aviation aircraft through education, networking and research.
As we look forward to the remainder of 2017 and onto 2018, the other Board Members and I will continue to strive to implement various initiatives that will be focused on providing increased communication, education and other meaningful benefits to our nearly 190 lender and product/service provider companies.  I would encourage anyone who may have questions regarding the benefits of membership in the organization to please contact me directly.
Regards,
Ford von Weise
President
National Aircraft Finance Association
ford.vonweise@citi.com
+1 (212) 559-1444