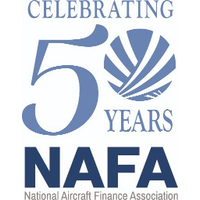 PRESIDENT'S LETTER
Dear Fellow NAFA Members,
What a difference a year makes!
The Voice of Aviation Finance
2021 brought a fresh start for a lot of people and companies, and NAFA is no different.  The Association weathered the COVID storm quite well, retaining a strong member base and strong financial position.  We learned how to engage our membership in different ways, with podcasts, Zoom webinars and more active content through news blasts and newsletters.  We stepped up educational content and industry –specific updates, communicated through new channels.
Since the start of COIVID, NAFA set a goal of hosting a webinar every other month, and exceeded that goal with 8 webinars supported by over 3 dozen panelists.  We plan to continue the webinar strategy this year with events every other month leading up to the grand reopening of in-person aviation business in Las Vegas at NBAA's BACE in October.  We are very thankful for our sponsors and participants – a great group of organizations who helped keep NAFA in-front of the industry, and the industry in-front of NAFA members.  We are also thankful to our friends at NBAA, GAMA, AOPA, NATA and IADA for their support and collaboration.
Aviation Transaction Integrity
However, as NAFA entered its 50th Anniversary of the Association, 2021 brought a renewed energy by "bad actors" to attempt to infiltrate aircraft transactions and perpetuate fraud.  The rise in internet fraud increased by nearly 70% in 2020 according to the recently released FBI Internet Crime Report (www.ic3.gov ).  We will continue to monitor these activities and report them to the membership.  There have been a handful of recent events attempting to compromise the integrity of aircraft transactions or the associated businesses, and a couple have been successful.  This industry appears to have a target on it, but together we can increase our diligence and show cyber criminals that our industry is too small and close-knit to successfully infiltrate.
Onward and Upward
On a very positive note, NAFA received federal and state approval at the start of 2021 to launch The NAFA Foundation, a non-profit that we will operate to bolster the Association's philanthropic efforts (i.e. with aviation and finance student scholarships).
NAFA is also moving ahead with plans for the signature NAFA/ IADA reception to be held in advance of the NBAA Convention in Las Vegas in October.  This signature event is not only the ideal kick-off for the NBAA week, but will be an opportunity for everyone to see each other for the first time together in a long time.
Meanwhile, plans have been made for NAFA's 2022 Annual Conference to be held in-person in Napa Valley, California April 18-21, 2022.  We are currently planning the agenda and program and will have updates posted on the NAFA website and through our monthly newsletter.  We have been looking forward to hosting our event in Napa Valley for nearly 4 years now, so when we are finally able to raise a glass at our 2022 annual conference it will be very well-earned and deserved!
If you are considering joining NAFA or looking for additional ways you can contribute to the Association, please consider volunteering with one of NAFA's active committees.  We would also welcome ideas for additional webinar or educational content you would like to see.  In addition, we have a variety of sponsorship opportunities for each of our webinars as well as our in-person networking events later in the year. 
Lastly, if you or your organization has witnessed fraud in an aviation transaction, we ask you to share this with the Association, including how it was caught.  We can remove reference to your firm and any individuals in order to protect from reputational concerns.  Circulating these attempts as they occur, as close to real-time as able, may give other members of the Association the ability to shut down these attempts.
Thank you for your support of NAFA!
Jim Blessing
President, National Aircraft Finance Association
cc:         Karen Griggs, Executive Director
              karengriggs@nafa.aero