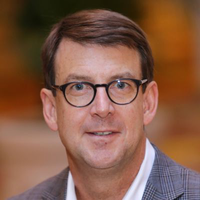 Dear NAFA Members,
I hope you all have had a great winter and have been able to enjoy and take advantage of the uptick in transaction activity in the business and general aviation markets. Most importantly, I hope everyone has enjoyed some well-deserved time off with their families enjoying warm weather or skiing in the mountains.
Now that the brutal cold spells are in the past and the days finally longer, spring has finally arrived for most of us which can mean only one thing – the NAFA Annual Meeting and Conference is only a month away! I look forward to seeing industry friends, new members, learning more about our industry and factors that impact it, not to mention enjoying a few (maybe more) drinks with everyone, along with some not-so-great golf.
I wanted to take this opportunity to remind everyone to register for the NAFA conference. This year is different than the past few years and we are excited for everyone to enjoy:
The venue - the Hotel Del Coronado, which is a well-known luxury beachfront resort on the water in lovely sunny San Diego. This is a fantastic property and location; we think everyone will truly enjoy the new West Coast location for the conference,
We have a broad and diverse complement of speakers this year (many from outside our traditional pool of speakers). Based on valuable feedback from you in the last few years, we heard what people wanted for upcoming conferences and have incorporated those recommendations in this year's slate of speakers,
Improving our program now means that we are stacked with speakers from firms with a variety of acronyms! NAFA, NBAA, GAMA, NATA, NARA, ABA, FDIC, FHLB, ASA, NBC, MSNBC – what would aviation be without a multitude of abbreviations.
We are very enthusiastic about this year's conference and hope you can join us. I'd like to thank Jim Blessing and his committee – along with Karen Griggs - who have organized this year's conference. Jim and his team have been working very hard to make sure the program reflects what you want to hear. Here is a list of some of the speakers and topics covered:
John Heilemann – National Affairs Analyst for NBC and MSNBC, staff writer for The Economist, Wired and The New Yorker. Co-managing editor of Bloomberg Politics. He may be uniquely qualified to help us understand what is happening at the highest levels of our political system and why, and where we may be headed as a nation,
Our Economic Keynote Dr. LaVaughn Henry is an employee of the FDIC and prior VP of the Federal Reserve Bank of Cleveland. Expect a fresh presentation this year by a seasoned speaker in economic circles, with detailed insight on both the US Economy and Monetary Policy,
A town-hall style session on the State of the Aviation Industry will be anchored by the Presidents of NBAA (Bolen), GAMA (Bunce), and NATA (Hiller),
Our New Aircraft Showcase focuses this year on new products from light sport to supersonic – with Textron and Dassault, along with the Icon A5 and Aerion Supersonic,
The Pre-Owned Market Update panelists will cover the full spectrum of aircraft - from single-engine piston through larger cabin jet,
Other panels will dive into the potential impact of the new tax laws on the aviation industry, and a look back at the changes we have seen since the financial collapse of 2008,
Members are sure to see some familiar names but will also see new faces like Jeffrey Ball, Brian Proctor, and Timothy Obitts. Ball is a community bank owner who is also Chairman of the Government Relations Council of the American Bankers Association and a Member of the Board of the Federal Home Loan Bank of San Francisco. Proctor is the President of Mente Group, and also the current Chairman of NARA. Obitts is the General Council and VP of Operations and Business at the National Air Transportation Association.
We received feedback that last year's conference did not allow enough time for networking. We listened and have decided to not have a speaker at lunch to create more time to spend with each other.
The NAFA Board has been working hard to address several issues of importance to the membership and I will update everyone at the meeting on our initiatives and progress that we have made to improve the organization.
Rooms are almost all sold out, so please hurry and register. I look forward to seeing everyone in San Diego.
Take care,
Ford
---